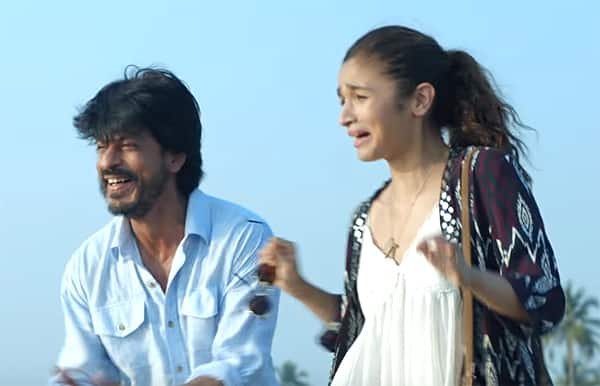 So the first teaser of Shah Rukh Khan and Alia Bhatt's Dear Zindagi is out and it has left us SPELLBOUND. Everything about the teaser is just beautiful. And boy, Shah Rukh is looking HOT AF, that beard makes him look SEXY like never before. Alia too is looking radiant and we are sure even in this film her performance will be bang on.
The teaser begins with Shah Rukh Khan saying Alia that his dad used to take him to the beach every Sunday to play Kabaddi with the sea . Yes that one dialogue bowled us over. I mean personally I never thought of this and I bet no one else too. SRK plays Alia's life coach in the film, he is the one who solves her every little issue. Right from dealing with her boyfriends to giving her the perfect answer to deal with Monday blues.
If you notice the teaser carefully, you will see in the end Alia falls down from the bicycle and asks SRK to help her get up on her feet and when he cycles away without helping her, she screams, "Shah!", yes that's his name in the film. And do you know that this is what his close buddies call him in real life too.Yes! Now the entire world knows that people call him SRK or King Khan, but very few are aware that he loves being called 'Shah'. Isn't that short and cute? Also we love the way Alia called him Shah. Do you agree guys?
Alia and SRK began the promotion of the film way earlier. During one of their dance performances at a prestigious award show, Alia had called him Shah and hardly people noticed. But keeping it real in the film is so cute and that shows that SRK… I mean 'Shah' is playing himself in the film. All we can say is thank you Shah for bringing smile on our face with this lovely teaser and believe us we are all eagerly waiting to watch the film.  So BollywoodLifers what do you have to say about Shah Rukh's real connection in Dear Zindagi? Share your thoughts in the comments box below..
Shah Rukh Khan and Alia Bhatt have fun playing Kabaddi on the beach.

Shah Rukh Khan teaches Alia to play Kabaddi with the sea. The two running on the beach, playing is the cutest thing you will see today.

Shah Rukh Khan shares an adorable childhood memory with Alia Bhatt.

Shah Rukh and Alia have an Aww moment together as he talks about his childhood memory of his dad which leaves Alia amazed.

Shah Rukh Khan offers a helping hand to Alia Bhatt as she falls off the cycle.

Shah Rukh initially offers a helping hand to Alia as she falls off but then cycles away. We love the fun filled, laid back relation the two share in the teaser of Dear Zndagi.

Shah Rukh Khan looks at Alia Bhatt in the cutest way as they cycle together.

This picture of Alia Bhatt and Shah Rukh Khan will surely make you jealous. Shah Rukh gives Alia an adorable look which is turning us green with envy.

Alia Bhatt's dimples will instantly remind you of Preity Zinta

Alia's this still from the teaser of Dear Zindagi is super cute. This image will instantly remind you of Preity Zinta with her dimples.