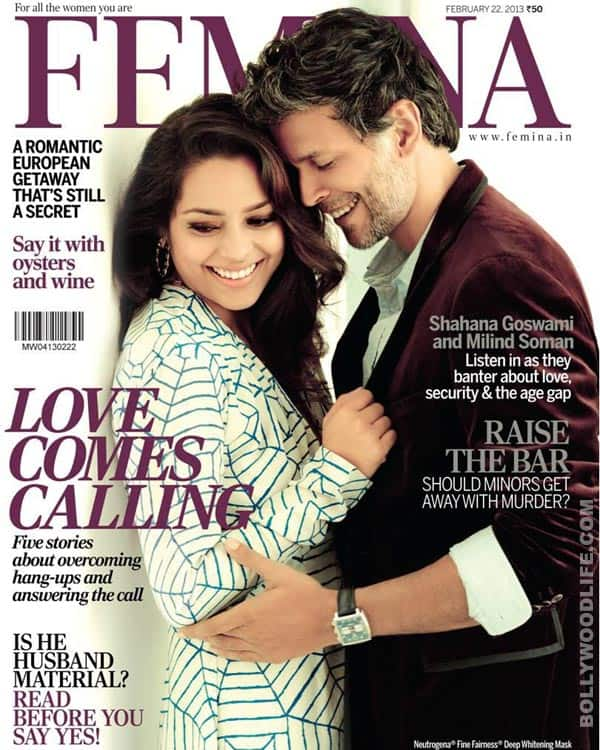 Putting rumours about their alleged break up to rest, Shahana Goswami and her dishy hunk Milind Soman appeared on the cover of a popular mag and showcased their super-passionate chemistry
While Shahana Goswami looks delightful in an Anand Kabra gown, Milind raises temperatures with his salt and pepper hair. Banishing rumours about their separation, and about the many gossipmongers talking about Shahana needling Soman all the time, the romance in the cover picture is a stark contrast to stories of the miserable status of the couple's relationship floating in the air.
Shahana has left her hair loose, part wavy-part straight, and opted for very li'l make-up, and that lends a dreamy feel to the cover. Milind complements his sexy girlfriend in a stylish oxblood blazer and a classy watch.
The two may be fiercely independent, taking their much needed time before taking the plunge into a more conventional commitment, but the pic, the style statement, the way the two are blushing in each other's presence…it all makes for a perfect Valentine's Day moment. And what's even more surprising is Shahana's avatar. You can still spot Milind hovering around at some style show or the other in his uber cool ensembles, but very rarely does Shahana make an appearance in such mesmerising clothes – although her very recent Stardust award outfit (the Carmen Marc Valvo gown) was breathtaking but, as we said, that's a rare sight.
Milind and Shahana – what's your take on their style statement?