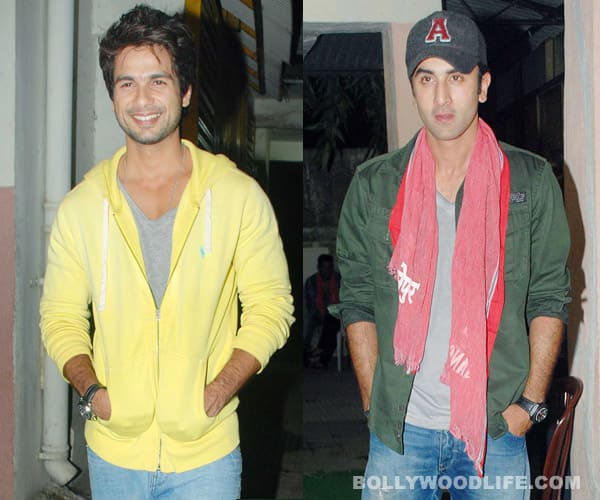 This is definitely not a figment of our kinky imagination. It's Shahid's odd comment on his relationship with Ranbir that left us speculating….and giggling
Shahid Kapoor's recent debacle in Mausam seems to have brought his rather odd of sense of humour to the fore. Guess he realised that it would be better to laugh at himself than to mull over the disastrous outcome of one of his most ambitious projects. We have to be glad that he has stopped taking himself too seriously, since because obviously nobody else was!
We remember a much quieter and far more self-conscious Shahid alongside a very talkative Priyanka Chopra during the promotions of Kaminey. But the tables seem to have turned now. A witty Shahid has been keeping the media entertained at every Teri Meri Kahaani event, while Priyanka has been taking it easy and letting the dapper dude steal the limelight.
Sasha has been coming up with really witty oneliners to duck questions on his relationship with Priyanka. A talk show host recently asked him, "Were you seeing each other during Kaminey?" And the riposte came fast: "Yes, Priyanka and I used to see each other every morning on the sets of the film!" But with all the fun and games going on, Shahid's recent statement definitely took us by surprise. And – hold your breath, it wasn't about Piggy Chops – but about a certain someone else to whom the Chance Pe Dance star is said to be rather close these days. "Ranbir Kapoor and I are just good friends and Priyanka is my neighbour. I prefer it that way and not the other way round!" said Shahid.
Reading between the lines is second nature to yours truly, and wickedness is in every gene. And everyone knows that "just good friends" is a phrase that echoes when a B-town couple is trying to hide a steaming hot affair! So even as our horns popped out of our evil heads, we could not resist the leap that was waiting to be made. Come on, Sasha, anyone would think that something's brewing between you and the Kapoor lad now! We are not sure – giggle giggle – if Ranbir will be happy with your latest revelation about your relationship, but we are quite confident that Priyanka will be left wondering why her costars are so involved with each other instead of wooing her. Quite sad, no?