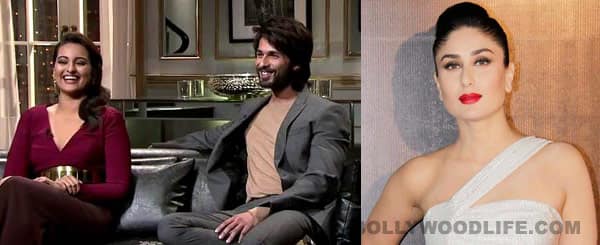 The R…Rajkumar co-stars stood up for each other as they chatted – and giggled – with host Karan Johar…
So this week it was Shahid Kapoor and Sonakshi Sinha, who had some steaming cups of coffee on Karan Johar's hit chat show, Koffee With Karan 4. And we had a helluva time as the couple…err…co-stars of R…Rajkumar answered all those provocative questions that came from KJo. But amidst all this, what really caught our attention was Sasha defending Sonakshi by taking a whip to ex-girlfriend Kareena Kapoor (now Khan). Wondering what we are talking about? Well, the story goes something like this…
When Kareena along with her cousin Ranbir Kapoor made an appearance on KWK 4 a few weeks ago she meanly remarked that an alternate profession for Sonakshi could be as a housewife, if she wasn't in Bollywood. Even though she reacted to this by saying that she always wanted to get married and have two children, KKK's snide statement hadn't gone down well with Sona – the Dabangg gal took Kareena down in her Rapid Fire round by saying that Bebo could be a gossip columnist if she wasn't in the film industry. And we all know how Saif Ali Khan's begum likes a good gossip, hai na?
But the story didn't end there. The lady who has masala hips (according to Priyanka Chopra) had support coming in from couch-sharer Shahid, who ended the show saying that Sonakshi was much, much more than a housewife. And we couldn't agree more with him. After all, Sona has proved her prowess as an actor with a film like Lootera, don't you think?
But we like how Sasha took a dig at ex-flame Kareena. What say, peeps? And while goss going around that something is brewing between the R…Rajkumar co-stars is not yet backed up by anything interesting, we could find some proof in the way SK stood up for his couch-companion. What do you think, BollywoodLifers?