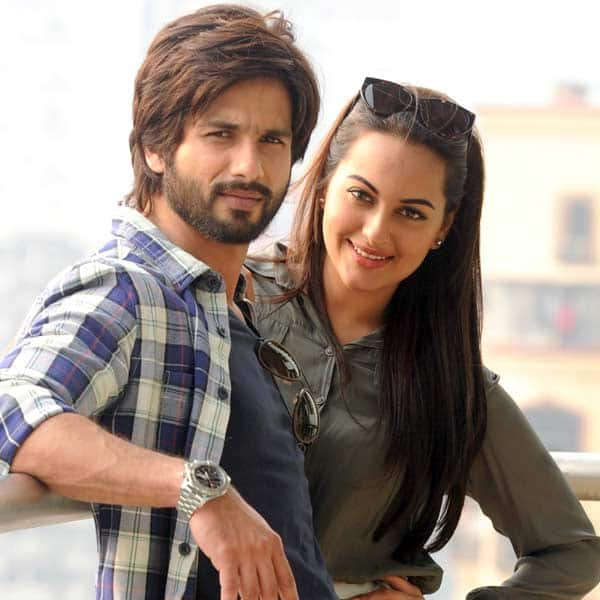 In a candid interview, Shahid and Sonakshi talk about being a part of the world of Prabhu Dheva and the importance of pyaar and maar…
We have always seen you in soft, romantic roles and here we see a complete different avatar of you. What made you go for this transition and how difficult was it to switch?
Shahid: I always say that I get comfortable when I am given something which I feel uncomfortable about and feel very uncomfortable when I am given something which I am very comfortable about.
I don't like to repeat myself and always like to try new things and different kinds of roles. So, yeah when Prabhu Sir came to me with this film and offered me this mavali character, which is very different from what I have done in the past, it felt great.
He offered me the world of Prabhu Dheva which I have seen and loved, but never been a part of, or done something which is even similar in any way. His world is very different. We all have seen his films like Rowdy Rathore and Wanted and we know that world. And honestly, its the kind of faith that he had because he has worked with extremely established stars, action heroes like Salman Sir or Akshay Sir and this is the first time that he went to an actor from the younger generation and he said, "I think you can do it because I saw you in Kaminey and feel that you have the personality to carry it off. So, I felt it was a great opportunity and I really did not have any doubts that I wanted to try it.
Sonakshi, you have always been a part of entertainment/masala films barring Lootera. Is it a conscious decision on your part to do this?
Sonakshi: Yeah, I consciously choose the films I do because I enjoy being a aprt of them and enjoy watching them even as an audience. I love to watch these kind of films and full-on, commercial, entertaining. I want to go to a theater and hoot, whistle and clap. And that's what entertainment is and I thoroughly enjoy being a part of it. That's my only reason to be.
Parbhu Dheva and Shahid are both great dancers. How daunting was it to dance with them?
Sonakshi: Do you mean to say I am not a good dancer? (Chuckles). I completely agree with you. I was slightly nervous at first when I realised that I was going to be dancing with these men. I think we started off with a really nice song . It was in my space and Prabhu Sir's style of dancing. I learn't how to dance so freely from Prabhu Sir, so yeah, slightly nervous at first, but the song was very good and peppy and energetic so we automatically got into the zone and then when I realised, I was matching steps with him, I was very excited and happy.
How was your experience working with Prabhu Dheva?
Sonakshi: Superb
Shahid: Awesome
Recently, we have seen a lot of films entering the Rs 100 crore and Rs 200 crore clubs. What are your expectations from R…Rajkumar?
Shahid: See, for me to break the record of my film which has made most money is not that difficult. So, that record, I will break for sure. With her, it's very difficult. Madam what would you say. Main toh record tod dunga, tu kya karegi.
Sonakshi: I don't know. Hoping for the best because its a very very special film for all of us. So far, I have broken my leg over the film, I don't know now, what record I will break. Looking forward to the best.
Shahid: Nobody thinks of that yeah. When you are running a race, you don't think na ki aaj toh me record tod dunga. You just want to do the best you can do. And we have done the best that we can do. I am very happy now with the film and already both of us have seen it twice. Dying to see it the third time. We are really excited.
Tell us something about your characters in the film?
Shahid: Well, I play this guy called R Rajkumar, who is a full-on mavali character. He is very rough around the edges. The look of the character is raw, imperfect, unruly, unkempt, dirty. So yeah, he is a guy of the streets. His attitude is that he does not care about anything or anybody… He is extremely aggressive, violent, but is a very passionate lover. So, he is funny also as a lover. I think the things he does are very funny, stupid, whacky like the pappi that we had in the film. That's something only Prabhu Dheva could have thought of. But very passionate in love..that is why the line… Main paise ke liye kuch bhi kar sakta hu toh soch ki pyaar ke liye kya kya kar sakta hu… The line is actually the crux of the film.
Sonakshi: Well, yeah it's a girl who has been brought up in a very violent place so she is quite aggressive herself. She knows how to take care of herself. But when it comes to love, she knows.
This is not your typical love story where a boy meets girl and they fall in love and live happily ever after…. It's a mad romance where she sees the boy who is so persuasive and he is after her and she hates him at first and finally falls in love with him. It's a very sweet romance…very different from what I have done before. I think she is a strong character and she has got a very vital role in the whole plot because he says, "Pyaar pyaar pyaar ya maar maar maar and the maar is happening because of the the pyaar. So it is very important.
Shahid: This is probably your best role in these kind of films. I think Lootera was phenomenal but this is her biggest role in terms of length and in terms of impact also. I feel after Dabangg, this film will have the maximum impact, her friends were saying this to her.
Sonakshi: Yeah!!
This year, we have seen you with Saif Ali Khan, Ranveer Singh and now Shahid Kapoor. Who's next on your wishlist?
Sonakshi: (Laughs) I never had a wishlist. I don't know, I take it as it comes. It has been a good year. I don't know what's in store for me.
And lastly if you would like to ask audiences to come for the film, how would you do that in Mawaali style?
Shahid: 6 December… Baajuwaale theatre mein… Aa jaana.