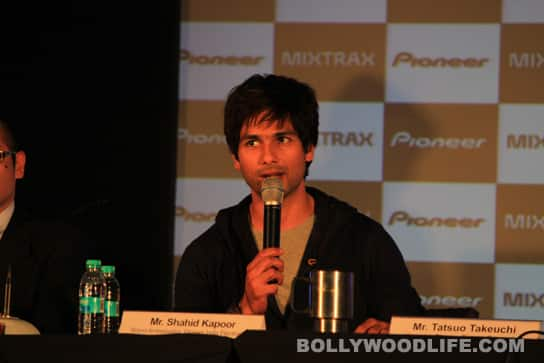 After the debacle of Mausam, Shahid Kapoor is now waiting for a good script to come along. He believes he has no threat from Kapoor junior
When Shahid Kapoor turned up to launch the in-car entertainment segment of Pioneer Electronics recently, he had to field a few volleys from the media. Shahid had just returned from Macau after attending the Zee Cine Awards and was in his usual chirpy mood. He was extremely pleased to be associated with the products as he believes that music can touch the soul. But even as he did his promotions, Shahid also spilled a few beans. He stated that he has no competition from Ranbir Kapoor and insisted that no comparisons should be drawn between them. When questioned about his ex-flame (still a rumour, never substantiated by either one of the two!) Priyanka Chopra's performance at the awards function, Shahid came up with the most bizarre reply ever: he maintained that he did not watch her act, so couldn't judge!
When an enthusiastic journo probed further and asked Sasha about his marriage plans, he said that marriage was not on the cards for him any time soon, as he's currently unemployed and waiting for a good project to come his way. Kaminey was Shahid's last hit, after which the 30-year-old failed to impress the audience with Mausam, directed by his father Pankaj Kapur and co-starring Sonam Kapoor. We hope Shahid will ride out this storm in his life too and make a stunning comeback with a good film! Until then, we wait to catch him at the odd promotional meet or event performance. And we can't help wondering now if Priyanka watched her alleged ex do his thing in Macau….