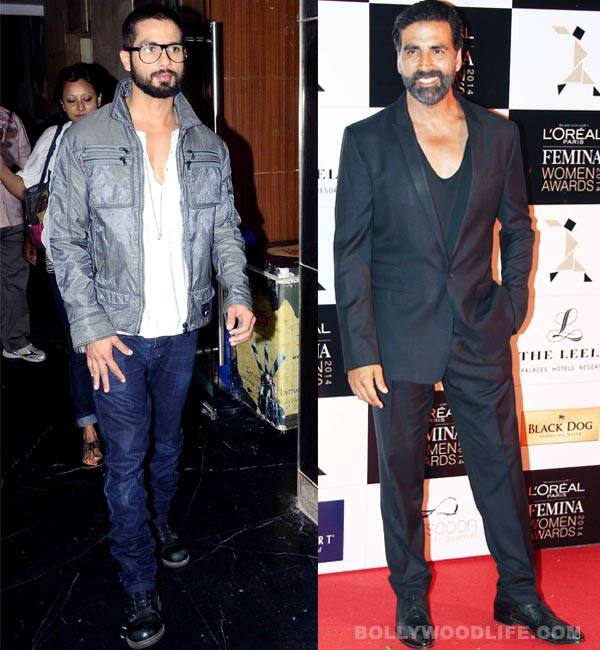 skip advertisement
Teaser-Shahid-Akshay-280314
Recently when we spotted both the actors and they set our heartbeats racing. Tell us if you felt the same too
Recently, when Akshay Kumar and Shahid Kapoor stepped out, we swooned 'coz of how hot they looked. You ask us, why? Well, to begin with, both of them were sporting a beard.
And while wethinks that clean-shaved is a better summer look, these hunks made us think otherwise. At Femina Awards 2014, Khiladi Kumar was wearing a suit but what we loved was the V-necked tee inside! Not the plain old suit… What was even more droolworthy was his black n white stubble and side-swept hair. Well, we should stop singing praises about this bearded B-townie 'coz there's one more guy who looked as sexy as Akshay. We 're talking about the R…Rajkumar actor at IIFA awards 2014 conference. Sasha had teamed up denims with a casual t-shirt and was wearing a jacket that would make you go green with envy. It's old goss that Shahid went bald for his upcoming film Haider. And at this conference, his hair had grown back, not as long as before but he certainly ain't bald anymore. Boy, he looked hunkalicious especially with that beard. It looks like he has finally shed his chocolate boy look. We certainly couldn't miss his glasses either. If it was a crime to look hot, Shahid and Akshay would be serving a lifetime sentence for stepping out in public like this.
Anyways, enough drooling over the two. You tell us, Shahid Kapoor or Akshay Kumar – Who looks sexier with a beard?