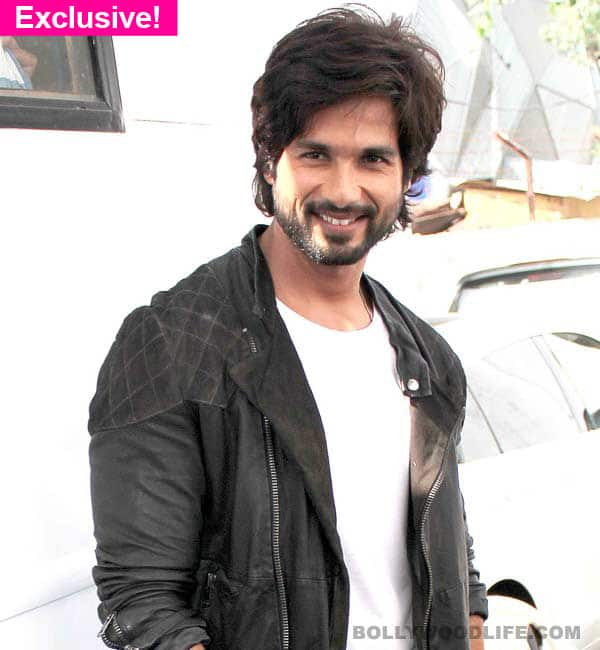 In a free-wheeling chat with BollywoodLife the charming star-turned-kickass action hero spoke about his new movie R..Rajkumar, his unconventional pairing with Sonakshi Sinha and why he thinks that his director is a taskmaster…
Shahid Kapoor completes a decade in the movie business this year. The charming lad has evolved into a promising actor. For us at BollywoodLife, he has evolved dramatically from a handsome hunk with a cute butt (our naughty poll story confirmed that!) to a kickass action hero. So how does the 32-year-old see the unique transition? "Nobody asked me that question before. It feels awesome! But let's keep it subtle," said Shahid, a smirk on his face, looking more mature than ever before with his sexy facial fuzz.
Excited about his new out-and-out action movie, Sasha is eager to know how audiences will accept him in his rugged avatar. "It is my first all-out action film. It's a Prabhu Dheva movie. It is high on dancing, action and comedy. I am very excited and happy with the way this film has turned out! I had a fantastic time shooting with Sonakshi Sinha and being directed by Prabhu Dheva. I am excited about the action sequences in the film and I want to know what people think about them," insisted the goodlooking star.
From Jab We Met to Kaminey to now R…Rajkumar Shahid has shown tremendous versatility with the kind of movies he's done, but how has the effortless dancer him in evolved? "I have learned not to dance like a dancer, but dance like an actor instead and they are two different things. Whenever you are dancing, people will always look at your face. So it is important to connect with the audiences and express yourself and enjoy yourself as a dancer. I think that's what I have learned over time and that's what I am doing," said the Kapoor boy.
But how different is it to work with Prabhu Dheva the choreographer, since very few people understand dance the way he does? Does shaking a leg in the presence of the legend make Shahid more conscious about his dancing skills, or does he remind himself that he will show 'Prabhu sir' what he's made of? "The endeavour is to satisfy the person who choreographs you. When a choreographer directs you, he visualises you doing a certain step in a certain way. So the effort is to achieve what they have thought for you in their minds. But this was a very different experience, since I have never done the kind of choreography that Prabhu sir has made me do in this movie. So it took more effort to understand, adapt and mould myself to a very different style of dancing. Some steps were really taxing and demanding, maybe Prabhu sir had decided ki Shahid ko toh mein nacha ke hee rahoonga! It was literally blood and sweat I had to put in. A lot injury also happened. But I loved the choreography and I loved the song, so I decided to give my best," explained Shahid.
The music of R..Rajkumar's is already popular and Saree ke fall sa plays on loop in Shahid's head these days. Visually the song looks stunning, but it was hard work to make that happen, maintains the hero. "We started shooting for the film with Saree ke fall sa in Bhuj. It was 45 degree Celsius. It was extremely hot. We shot at places that are actually salt beds. So you see it all white in the background. But these places are uneven and your foot can go inside the salt. But the song was awesome and we (Sonakshi) were doing it together, so it was exciting. We had so much fun that we completely forgot that it was hot and the ground was not perfect to dance on. We had a blast," recounted Shahid.
For a while now Shahid has been looking for a hint of luck for a movie to work at the box office. Will Sonakshi Sinha's lucky streak work for the movie and make it a success eventually, we wonder. "I think we are looking good together and the love story looks well. So focus is on the work at the moment and everything will happen when it has to happen, but the process has been awesome. She is a great co-star to work with," concluded the man with anticipation and hope in his heart that his high flying kicks in R… Rajkumar will set cash registers clinking!
Watch video!
[flv]http://st1.bollywoodlife.com/wp-content/uploads/2013/12/Exclusive-Chat-with-shahid-interview.flv[/flv]