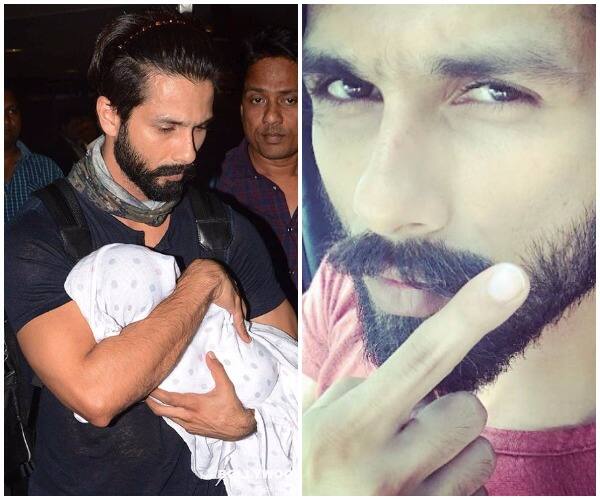 Shahid Kapoor finally joined the sets of Padmavati on November 24 but did you know his darling Misha accompanied him to the sets? Yes she was there as he joined Deepika Padukone on the sets of Sanjay Leela Bhansali's Magnum Opus. How cute is that. We can totally imagine the entire set going gaga over her. Looks like the father couldn't keep away from her for even a minute. He started shooting for the special Ghoomar song alongside the actress. She has already been prepping for this sequence for more than a month now. It took 40 days to erect the set for the ghoomar song. She will be dancing amidst 400 diyas. Just when we thought Bajirao Mastaani was as grand as it could get, comes along Padmavati.
It was on November 1, Ranveer Singh began work for his part as Alauddin Khilji. A fortnight later, Deepika joined him. And now Shahid aka Maharana Ratan Singh has finally begun his work.  After shooting for the ghoomar song he will reportedly  start shooting for his solo sequences.  "Deepika and Sanjay were excited to meet little Misha. They shot for the ghoomar song in which Deepika will be seen performing for the Maharaja. It is an important sequence in the story. Daddy Shahid was overwhelmed when the unit clapped and cheered for him after the first shot," revealed a source to a leading tabloid. It was going to be a two day shoot at the Mehboob Studio. Now that Ranveer is back from Dubai, he will be shooting in the khilji chamber that has been recreated in filmcity. A war sequence is to be planned as well, for that the recee will begin in Mid-December.
For those who don't know Padmavati is a period drama based on Rani Padamavati of Chittor who chose to end her life then give into Alauddin Khilji's demands. Shahid Kapoor plays her husband Maharana Ratan Singh.We can't wiat to see the chemistry between the two. This is the first time Shahid is part of a Sanjay Leela Bhansali film, while it marks the third collaboration of Ranveer and Deepika with Mr Bhansali.