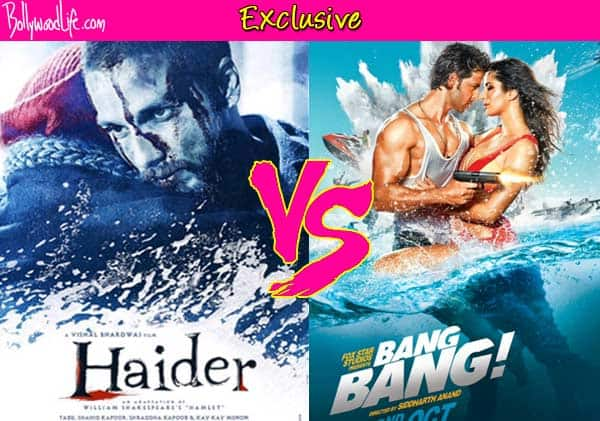 The two stars are all set to collide on with their forthcoming releases. Will the trade and audience collections be affected by the same? Let us find out…
Hrithik Roshan and Shahid Kapoor are all set to clash at the box office this Gandhi Jayanti. Bang Bang and Haider will be released on the very same weekend of October 2. Although, people may think that Hrithik is a bigger star than Shahid, but for all obvious reasons the trailer of Haider proved that Shahid will definitely give a tough competition to Hrithik. So who will emerge winner in this race? Lets talk to our experts.
Trade analyst Akshay Rathi informs, "Haider had announced its release date a year back, while Bang Bang kept on getting delayed and they finally finished the film and decided to release it on October 2. So Haider is at no fault. Also, the two films will have a very different audience base. I don't think trade will get affected, because people who will watch Haider will not be able to stand Bang Bang and vice versa. However, UTV and FOX Star Studios are backing the two projects respectively and, therefore, they will make sure that the two films get enough number of screens to release. Haider is more for the classy audience whereas Bang Bang, which is a remake of Knight and Day, will be more for the masala loving single screen audience."
Trade analyst Komal Nahta however has a different perspective on the same. He informs, "Trade will surely get affected. It is true that both the films have different audience base and will cater to them respectively but there will be a huge chunk of audience who might want to watch both the films. Thus they will be left to choose between the two and that will definitely affect the opening day collections."
So BollywoodLifers, now that you have heard the news from both sides of the coins, we leave it onto you to decide as to which film to watch and which to give a miss on October 2.