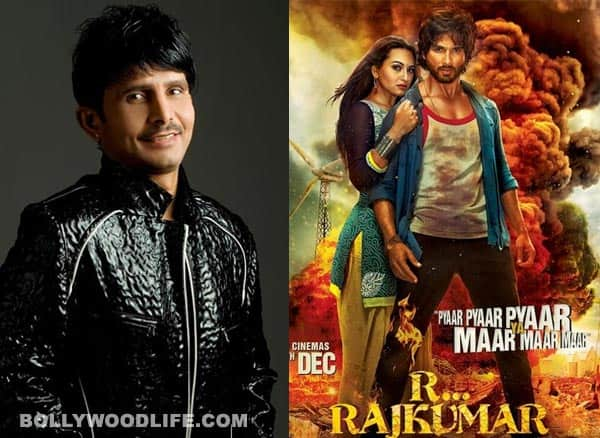 The over-the-top actor is now one of the most infamous reviewers in B-town. He watched the Shahid Kapoor and Sonakshi Sinha starrer and reacted…
After making fun of Salman Khan's 'the eternal virgin' status, Kamaal R Khan has found a new subject to bitch about. Prabhu Dheva's latest R…Rajkumar is now the focus of KRK's expert analysis, cinematically and otherwise. The first to be targeted by the Deshdrohi actor's wicked cracks was Sonakshi Sinha. "Shahid Kapoor should have triple role to occupy as much space as Sonakshi occupied when they are together on screen," tweeted KRK, obviously hinting at the Dabangg actor's generous dimensions.
Giving R..Rajkumar 1.5 stars, the critic has been counting how many flops the movie's lead actor has delivered with fabulous consistency. "The Name of the film should not be R…Rajkumar but should be GandiBaat so I give 1.5 stars to this film will be Shahid's biggest n 12th flop in row," tweeted KRK.
The controversial reviewer also threw a blinder. "Before a week I was sitting with one of Shahid's best friend n I said tat R…Rajkumar will be a hit. He said- Yar mujhe tho doubt hi hai.Haha," revealed the hyperactive KRK. And finally he took a pot-shot at Shahid's popularity with a stinging: "Shahid Kapoor Bhai sirf Do baaton par chal rahaa hai– hope hope hope and flop flop flop."
PS: Our reviewer watched Prabhu Dheva's action endeavour. Click here to catch our our take on the movie, BollywoodLife ishtyle!
ALSO READ: Kamaal R Khan makes fun of Salman Khan's sexuality!