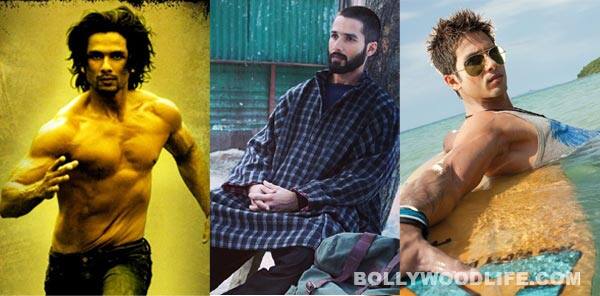 skip advertisement
The R…Rajkumar star's new look in Haider is finally revealed and unlike promised, he hasn't gone completely bald…that will come later, he insists
For a long time now there has been buzz that Shahid Kapoor will be shaving his head for his latest film, Haider. And after hiding it for a few days under a snug-fitting cap, he has finally shown it off – Shahid has a buzz cut and not gone bald. The R…Rajkumar actor has retained his beard and moustache and looks like a pukka Kashmiri in his firan – a very handsome one, too.
And this isn't the first time that Sasha has acquired a new look for a film. We all know that he is obsessive about his luscious locks, but the chocolate boy has changed his hair to suit his role many times over the years. Let's take a look….
The no nonsense haircut: While shooting for Jab We Met, Shahid Kapoor was seen with a sophisticated do. He had side-parted hair that stayed in place, no matter what. And he sported glasses to support his serious look.
The bad-boy look: Shahid worked on a double-duty style for Kaminey. His overgrown mane in the film added to the rowdy look of one of his characters, while the prim hairdo worked for the more seedha-saadha role.
The not-so-cool do: Sasha had side-swept and longish hair that did nothing for his sex appeal during his Dil Bole Hadippa! days. And he looked more like 'champu' than a champ with the slicked down hairdo.
The conman coif: For Badmaash Company, Shahid was seen with spiked hair. He looked quite a hunk and a convincing badmaash too!
The unkempt style: While shooting for R…Rajkumar, a new rowdy Shahid emerged. Last year, the actor was seen in a rugged look with messy hair and facial fuzz. He convinced us that he was a roadside Romeo and a goon, though not a horribly nasty one.
Hairy affair: A few days ago Shahid could have been a lookalike of Shahrukh Khan. The actor was seen with a thick beard and long hair pulled back in a little ponytail. Though this look wasn't novel, Sasha looked hot in it.
The buzz cut: The R…Rajkumar actor has chopped off his shiny mop and is seen with a close crop in Haider. He still has his beard and doesn't look like an overgrown schoolboy, for once. We're mighty impressed!
Wethinks that Shahid's new look for Haider is the best so far in his B-town career. You tell us, BollywoodLifers – which is your favourite style for Shahid? Vote now!