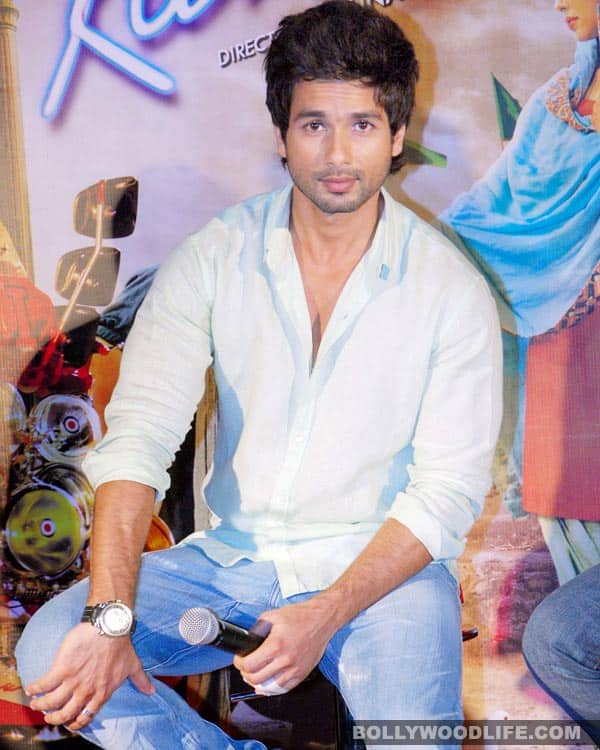 The grey clouds over Sasha's career are blowing away at last. The Mausam star is most probably going to sign on for Yash Raj Films and Shaad Ali's next, tentatively titled Ek Vanilla Do Parathe
Remember a few weeks ago we told you that rising – and falling – superstar Shahid Kapoor's career was going through a lull 'coz his films – Vettai, Heer Ranjha, the Knight And Day remake and Maneesh Sharma's next – were either stuck in limbo or lost in translation? Sasha's dad Pankaj Kapur's directorial disaster Mausam released in September 2011and since then the young actor has been whiling away his precious time. It does make sense though that the 30-year-old sits at home instead of doing the humdrum, uninspiring films and upsetting his fans.
However, the grey clouds of joblessness that were hovering over Shak's career are taking a U-turn, or it seems. Rumour has it that Shahid told Yash Raj Films' top boss Aditya Chopra that his dates were unutilised. So the enterprising honcho immediately sprang into action and asked filmmaker Shaad Ali (whose last film was Jhoom Barabar Jhoom under the YRF banner) to cast Sasha in his next project – Ek Vanilla Do Parathe. And…kaboom! Shahid is now all set to go back to the studios in May, we hear. The film will most probably unite Shahid with Priyanka Chopra's cousin Parineeti, the gal who has been making waves in B-town with the promos of her new film, Ishaqzaade. Earlier Shahid and Pari were supposed to be cast in Maneesh Sharma's film, but the director has fallen ill and the project has been pushed to a later date.
Neither the star nor the illustrious production house have confirmed the news report, so we don't think there's any reason to start jumping with joy just yet.
For all you know, the latest development might just be the work of gossip mills running overtime or extra-zealous PR types. 'Coz Shahid and Shaad have a messy past experience to bury before they can move on. Some time in 2010 it was rumoured that the director wanted to approach the actor with a script to resurrect his career after the debacle of the outlandish Jhoom Barabar Jhoom. But the dancing star, for reasons known best to him, avoided the director's calls. Obviously, neither of the two people concerned bothered to confirm or deny the report and left the matter for us to speculate about.
If Ek Vanilla Do Parathe (honestly, are they really calling it that?) really takes off, it means either Shaad has forgiven Shahid for not responding to his calls, or that there wasn't an iota of truth in that piece of goss. We hope it's just juicy tittle-tattle…for the jobless Shahid's sake.