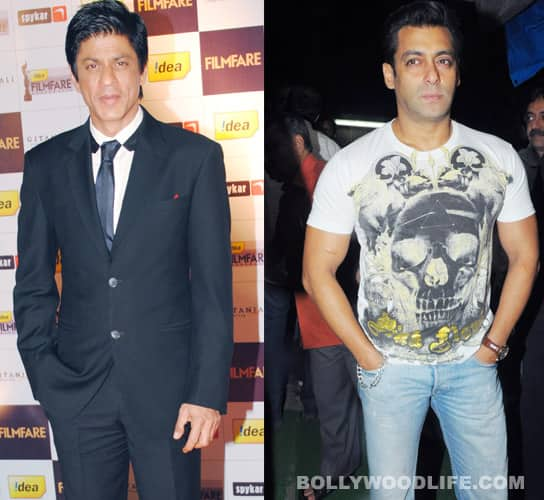 Cineswami wants Shahrukh and Salman Khan in the film based on Chetan Bhagat's Revolution 2020, but he'd rather not read the book!
Chetan Bhagat may be derided by the literati for writing barely literate novels that are clichéd and riddled with errors and that's precisely why Bollywood seems to want to get into bed with him at every opportunity. Barely has the rumour about Rockstar Imtiaz Ali doing an adaptation of 2 States with his current pet Ranbir Kapoor settled, comes the news of yet another adaptation and this time it is official. UTV has snapped up the rights of Bhagat's latest mass-market novel Revolution 2020, with a view to turning it into a feature film.
UTV Motion Pictures CEO, Siddharth Roy Kapur aka Mr Vidya Balan says, "We have been in discussions with Chetan for a while to do something together. When he shared his latest book with us even before it was published, we read it cover to cover in a single sitting. It's simply unputdownable."
"He has crafted such a dramatic plot with such sharply defined characters that you're constantly wondering how things will play out. The issues he deals with in the book are those today's youth will instantly relate to and identify with. We're very excited to work with him on making a great film from what we all believe is a great book," Kapur gushes.
Bhagat loves the idea of being in bed with UTV. "Yes, UTV finally managed to seduce me. A great offer, immense excitement about the story and a wonderful team with a track record makes me feel they can do justice to Revolution 2020, a story very close to me and the readers' hearts," he purrs.
The book follows the ups and downs in the lives of three friends, Gopal, Raghav and Aarti in Varanasi. Bhagat is already exhorting the Twitterverse to give casting suggestions for the three characters. Of course, that would mean actually reading the book and that should be pretty easy, even for the meanest intellect. Not having actually read the book, and having no plans to do so ever, Cineswami is happy to suggest a grand reunion of Shahrukh Khan and Salman Khan with a new face to play Aarti. Perhaps Imtiaz Ali can help as he has now successfully introduced two new female faces (both imported) in Love Aaj Kal and Rockstar.
Lest we forget, Bollywood's biggest hit of all time, 3 Idiots, is very loosely based on Bhagat's Five Point Someone and he had a very public spat with Aamir Khan and Vidhu Vinod Chopra on the scant credit given to him. That's why Aamir may not be a good idea to play one of the leads in Revolution. On the other hand, Salman had a guest appearance in Hello, based on One Night @ the Call Centre, but the film bombed anyway.
This is a good place as any to insert a Groucho Marx quote on reading, with reference to Bhagat, of course – "From the moment I picked your book up until I laid it down, I convulsed with laughter. Someday I intend on reading it." Except of course, Cineswami won't.
ALSO READ:
'Rockstar' box office collections rock: Rs. 64 crore in opening weekend