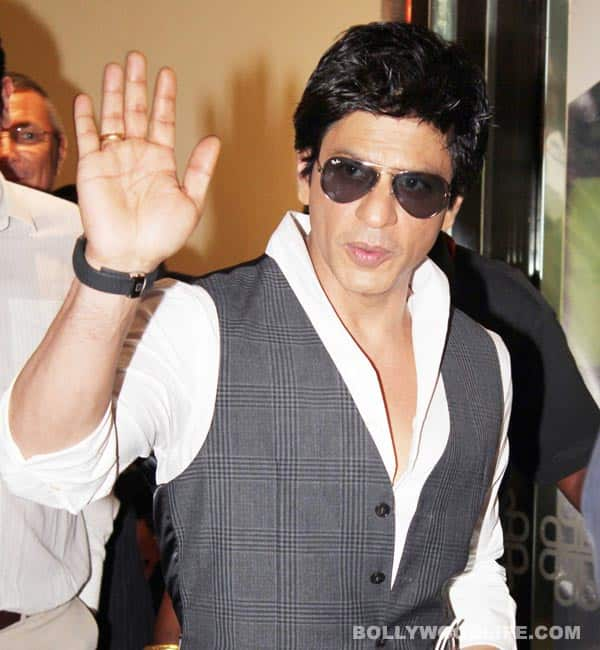 As the superstar completes two decades in Bollywood, we list his quirky contributions, onscreen and off screen
Bollywood before and after Shahrukh Khan are two different worlds altogether. One may have star quality, but the other, with Shahrukh Khan reigning supreme, is exciting, energetic, dynamic, loaded with the champagne-fizz of his presence. He has just completed 20 years in the Bollywood that he has helped shape, working in more than 60 films! Yet in every one of them he has collaborated with the director to bring out something that was uniquely his own. These quirks became his trademarks, and made it easier for mimicry artists to poke fun at him. Off screen too, Shahrukh has stayed true to the man he is and has come up with quotable quotes that have even jaded mediapersons grinning. And even as we chuckle, we look back at his time in the arc-lights to discover 20 of his contributions to Hindi cinema:
Impish charm: He is a loveable rogue. The one who will deliberately delay his love interest so that she misses her train and they can spend more time together, but doesn't take advantage of her. Other Khans tried it in other films, but failed to succeed.
Floppy hair: Ramesh Sippy once told him during the shoot of Zamaana Deewana that his hair would be the bane of his career. But it went onto just add an endearing quality to his smile that could make you forgive him for all his faults.
Twist your legs and spread your arms wide: The classic SRK pose. It is identified with him so much that even Riteish Deshmukh tried to copy it in F.A.L.T.U. He didn't quite manage the same effect, but you know that when Shahrukh does it he will definitely get the girl.
Stammer: When Shakti Kapoor stammers, he becomes the butt of all jokes. When Shahrukh stammers, he scares you. His Kkkkk… Kiran in Darr is iconic.
Anti-hero you root for: He is the guy who scares the lady he claims to love, tries to murder her true love, and even throws women off rooftops, all without blinking an eyelid. Yet, when he is fighting for his last breath, you are on his side. SRK made plotting murder the new sexy.
Wit: Ask any journo and they'll tell you that Shahrukh is always a good two hours late for any press conference, even if the venue is the hotel next to his home. But when he does arrive and begins to speak, he will have you hanging on to every word he utters. You will laugh so hard that you'll easily forgive him for keeping you waiting. His witty remarks and innuendos make for exciting stories.
Unconventional looks: He doesn't have the classic good looks of Aamir Khan or Hrithik Roshan. What he does have is a crooked nose, uneven lips, a short and thin build and a pair of beautiful eyes. Yet he remains the undisputed king of romance.
Family man: Bollywood stars were always tagged as 'philanderers'. But Shahrukh's real life love story, his rock solid marriage and the absence of link ups with his female co-stars while admitting to being friends with them has shown the cynics for 20 years that it is not impossible for a Bollywoodwallah to be a family man. One of the reasons that the recent rumour of his alleged affair with Priyanka Chopra was shocking but unbelievable.
She is worth it: His heroines are not simpering females. They are strong, independent women with a mind of their own. He makes you believe that whoever you are – be it a single mother as in My Name Is Khan or a citizen of an enemy country as in Veer Zaara – you are worth loving and dying for.
TV stars can make it big: SRK began his career with the TV shows Circus and Fauji. Twenty years later, his stardom continues to inspire telly stars who want to enter Bollywood.
It's never too late for an image makeover: He began his career as the anti-hero, but went on to become the most loved romantic hero in contemporary Bollywood. When that got too boring, he tried being a patriotic hockey coach, a don and later a superhero. Now he's back to being a romantic hero with a much younger heroine. Age is no barrier.
Energy: All his co-stars groan at how much energy SRK has. He can shoot for several hours on end. He has admitted that he barely sleeps for four hours every night.
Madness: There's a certain feeling of passionate insanity that he conveys, both on and off screen. When he loves in DDLJ, fights in Darr or inspires his team in Chak De! India, he does it with a mad passion.
Unique chemistry: Kajol once said that Shahrukh would romance a cow on screen and still make it look convincing. That's the kind of chemistry he shares with his heroines onscreen – be it Madhuri Dixit, Kajol, Juhi Chawla or the younger lot: Deepika Padukone, Priyanka Chopra or Anushka Sharma. For as long as the film lasts, he makes you believe that the love story portrayed on screen is true.
Raj: He is the lover boy every girl dreams about – he loves without conditions, serenades his ladies and accords them respect. The sincerity and innocence with which he portrayed Raj in DDLJ helped make the film iconic and his character, representative of the ideal hero.
Marketing ace: SRK was one of the first actors of his generation to realise how important it is to market a film properly. His campaigns for Phir Bhi Dil Hai Hindustani and Asoka didn't work very well, but they became the springboard for other Khans to jump off from. And when it came to RA.One, Shahrukh had them all beat with his intense eight-month-long publicity campaign.
Super dad: Shahrukh has maintained that he doesn't do a Baazigar or a Darr any more because of his children. He even made what is perhaps Bollywood's most expensive film, RA.One, just for his son. He attends his kids' dance shows and martial arts competitions, and goes on bicycle rides with them, ensuring they have some level of normalcy in their lives.
Gadget junkie: He jumped on to the tech bandwagon long before other stars began to boast about their gadgets. He loves his toys – be it a new mobile phone, a new video game or a portable editing suite.
International collaborations: SRK loves Bollywood and has helped sell it to an international audience. He has gushed about his crush on Shakira, brought Akon to India just to record one song and arranged for Hollywood technicians to work on RA.One.
Dancing at weddings is cool: No actor worth their Armani would ever dance at a wedding, but Shahrukh had no such qualms. He unabashedly claimed that he needed the money to fund his productions, at a time when no star would talk about such matters in public. Other actors vilified him for it, but soon followed suit.