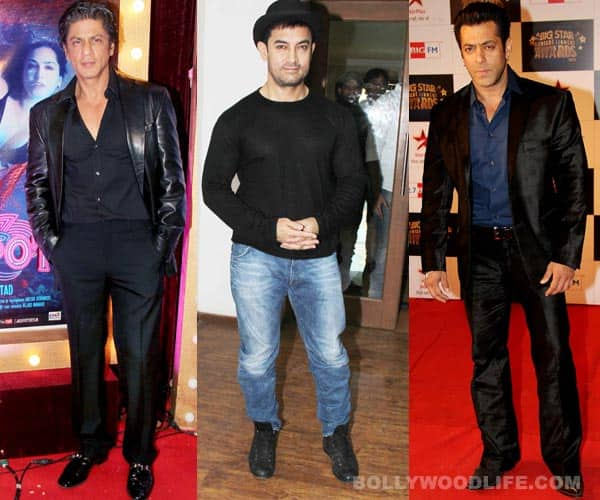 If Narendra Modi wants to pick some of his ministers from film fraternity, here are the best candidates for the jobs
The Narendra Modi wave has sweeped the nation, and if exit polls are to be believed we are set to get our new Prime Minister in him. We love What Ifs. And here is a classic example of that. What if NaMo became PM and what if he decides to choose his ministers from Bollywood? Modi's interest in films and anything Bollywood is well known. He is also very close to filmi people, right from Salman Khan, Akshay Kumar, Ajay Devgn and last but not the least Rajinikanth. Bollywood's biggest star Amitabh Bachchan has been promoting tourism in Modi's state. So how can we not recommend folks from the film frat for some of his portfolios? And they all fit the bill. Here, have a look…
Home Minister: Jaya Bachchan
She manages a household which boasts of three stars, not to mention her own popularity among the audiences. Jaya can not only manage different departments in the ministry but also has the ability to co-ordinate and supervise their functioning efficiently. She is kind yet tough, sweet yet straight-forward, compassionate yet can roar like a Bengali tigress in case of disobedience. And her being a Rajya Sabha MP only adds to her qualification as being the Home Minister in the Bollywood cabinet.
Defence Minister: Salman Khan
He is the official tough guy of Bollywood. He has prepared an army of new actors for Bollywood, promoting anyone who he thinks has talent. He thinks like a 'General' and he can beat hundred men single-handedly as we have seen on screen. Going by his love for uniforms in the films, Salman can well hold this post with elan. He can also reprimand our neighbouring countries in case they do no follow the cease fire and no one will dare to answer back to him, not only because of his power but also because everybody loves Bhai!
External Affairs Minister: Shahrukh Khan
NRIs love him, Emirates may be his second home and his fans in European countries get enough of him. Suave, articulate, oh-so-bright and armed with those killer dimples, really there is no one else to represent India abroad than the charming King Khan. India needs a foreign minister who is both firm in his demands and pleasant in his attitude, and SRK can essay that role with perfection. He will definitely win us friendly neighbours and long-lasting pals all over the world. Add this with his knowledge on everything under the sky, he will get us the best export-import deals ever!
Finance Minister: Aamir Khan
He chooses the right films, the right brands and even the right shows. Year after year. Aamir Khan comes with a certain reputation and clout. People blindly trust in his brand because he knows his business. He knows where to invest and what to fund, after all the Time magazine has not named him in its list of 100 most influential persons in the world for no reason. Practical and logical, this Khan has the right amount of fiscal knowledge to bring India – fighting inflation and rupee depreciation – on track. Trust him not to present a populist budget but work only for the betterment of the country, financially.
Sports Minister: Akshay Kumar
He is the fittest actor in Bollywood. The face of Special Olympics, master in martial art and a lover of sports, Akshay Kumar is the best choice to carry the baton of this ministry, which has been marred by much politics and controversy. Once in power, a no-nonsense Kumar will make sure that only sports is promoted with his ministry's funds. He will also give boost to sports other than cricket. The Khiladi will also assist not-so-popular games as he himself believes in promotion of all the games in India. He will ensure that we build a healthy nation and not steroid studs. And finally, he can teach a thing or two about sportsmanship to the aam admi. Yehi hai right choice, baby.
Railways: Imtiaz Ali
Railway coaches and stations become a character in Imtiaz Ali's films, be it Jab We Met or Love Aaj Kal. Ali seems to like, and understands, the hustle-bustle of railway platforms and can help improve railway network in the country. He confesses to often travelling to his hometown by train. He is from Jharkhand, earlier a part of Bihar state which has got special place in almost all the railway budgets till now. Ali can also give inputs as to how railways can make profits just as his films. His cautious mind will help increase security too. And he can rope in a brand ambassador like Ranbir Kapoor and lure the entire female population of the country to only travel by trains and ditch the planes for good.
Tourism: Karan Johar
Another favourite of NRIs, Karan brought the world to us. How he loves to promote the UK and US only strengthens our argument to make him the tourism minster. Karan showed us life beyond India in his films but he also made sure that foreigners too get a glimpse of Indian hospitality. He via his films has made India a beautiful place on the map of world travel.
Civil Aviation: Aditya Chopra
The credit of introducing Indians to Swiss Alps goes to his father. YRF is responsible for a lot of Indians flying abroad. Whether it is to London after seeing Jab Tak Hai Jaan or heading to Chicago after seeing Dhoom 3. Aditya Chopra blurred geographical boundaries for the desi audiences. He even got married abroad. And now watch as more and more people chose foreign destinations for weddings. Adi will help every Indian take their flight of fantasy in style.
Social Justice: Shabana Azmi
Why not? She raises voice against anything unjust, be it crime against women or copyright infringement. Shabana can speak on every forum for social justice, she can help Indian woman get her right in the society. She is seen in every candle light vigil and takes up cudgels against unfair practices around her. Shabana not only speaks for the poor but also works for them, and her foundation Mizwan is a proof enough for that.
Environment Minister: Zoya Akhtar
She is the most 'green' Bollywood personality. Zoya not only herself conserves natural resources but also urges others to do so. She continuously lectures everyone around her to save trees, water and other natural resources while doing that herself religiously. If given the ministry, she will definitely put an end to the ruthless mining and plundering of resources in our country.
IT and Communication: Uday Chopra
He knows everything there is to know about technology, so much so that he can write books on it. He is the master of social network and communication – bonding very well right from his girlfriend Nargis Fakhri to his brother Aditya Chopra to his fans and trollers alike. And he does with it all with a sense of humour. Definitely the most apt candidate for the job.
Culture: Gulzar
Language is his tool and what can augment culture better than language? Gulzar writes, speaks and reflects India's deep-rooted traditions and culture. He loves to play with words and will go to any length to promote literature and art. He is an amalgamation of different civilisations; with he at the helm of this ministry our generations would not only learn to respect our own culture but also will try to inculcate the good values of others.
STORY: Boski Gupta / DNA