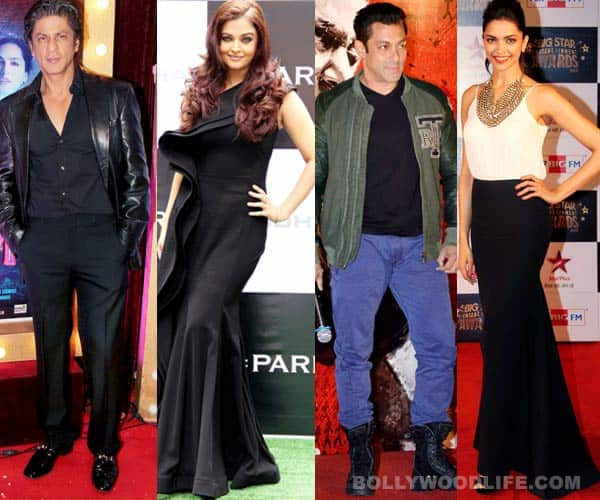 skip advertisement
It's that time of the year when most of us are inquisitive to know how 2014 will unfold for our glitzy celebs. Here's Bhavikk Sangghvi's prediction about what the new year will have in store for our B-town dwellers
Numerologically, the year 2014 (2 + 0 + 1 + 4 = 7) will come under the dominance of Number 7 (Ketu) – the planet of peace and tranquility. Considered to be one of the most spiritual numbers, all persons born on dates 7, 16 or 25 of any month are ruled by Ketu.People whose destiny number add up to Number 7 are also ruled by Ketu. For example, 12thApril 1989 (1 + 2 + 4 + 1 + 9 + 8 + 9 = 34 = 3 + 4 = 7).
Plus, Number7 is directly linked with Number 2 (Moon) as these two numbers always go hand in hand.
People born under the zodiac sign of Cancer (20th June – 20th July)or  Kark raashee (moon sign)are also ruled by both these numbers.
In numerology, the set of 1, 2, 4 and 7 are considered to be like a 'family' of numbers and 2014will be a good year for people who are born on the dates or the series of 1, 2, 4 and 7 such as 1, 10, 19, 28 or 2, 11, 20, 29or 4, 13, 22, 31or 7, 16 and 25. No prizes for guessing that the year 2014 will belong to them.
The New Year will possibly unfold in the following way for our megastars.
Aamir Khan ( March 14, 1965):Our very own Mr Perfectionistis ruled by Number 5(Mercury),Number 3 (ruler Jupiter – Pisces) and Number 2 (Moon). After creating 'dhoom'(literally!) with Dhoom:3, his next release P.K. with the genius Rajkumar Hirani will set new benchmarks for others to follow. The new season of his television show will also garner huge ratings. Wearing a pearl will give him mental peace and reduce stress levels if any.
Salman Khan (December 27, 1965):The nation's most loved star, Salman is ruled by Number 9 (Mars), Number 8 (ruler Saturn – Capricorn) and Number 6 (Venus). His soon-to-release  Jai Ho will be a sure shot blockbuster, whereas his Eid offering for his fans Kick will redefinebox office numbers. Although he might date someone, he will remain single and happy throughout 2014. Wearing a diamond above 50 cents or half a carat will ensure someone really sweet enters in his life.
Shahrukh Khan ( November 2, 1965): Influenced by Numbers 2 and 7 (Moon and Ketu) and Number 9 (Scorpio – ruler Mars), SRKbeing in his49th year indicates an excellent phase for him in the times ahead.As usual, he will be winning a host of awards for Chennai Express. His X'mas release aptly titled 'Happy New Year will do roaring business and break records of his own film. There will be happier times on the personal front as well whereas his IPLT20 cricket team'Kolkata Knight Riders' performance in the upcoming season will also be encouraging. Wearing a cat's eye on a Thursday mid-night will remove negativity and enhance his luck even further.
Hrithik Roshan ( January 10, 1974):Hrithik is primarily ruled by the most powerful star – the Sun (Number 1). Being a Capricorn, he is also ruled by Number 8 (Saturn) and his destiny number adds to Number 5 (Mercury). Hrithik will be now be entering the 41st year of his life which indicates his best year is ahead of him. On the film front, his next release  Bang Bang, will fare extremely well at the box office. Wearing a blue sapphire (after testing) on a Saturday(two hours and forty minutes before sunset) in his middle finger will take his graph to an altogether different level and put him in the international league.
Ranbir Kapoor ( September 28, 1982):Ranbir comes under the direct influence of Number 1 (Sun), Number 6 (Venus – Libra) and Number 3 (Jupiter). In his 32nd year,it is a good time forRanbiron the professional front and on the personal side as well. His compatibility with Katrina (16th July 1983) is superb and they should at least get engaged in the last quarter of 2014. His releases Roy and  Jagga Jasoos will do decent business, but it will be Anurag Kashyap's  Bombay Velvet which will catapult him to a higher league. Wearing a yellow sapphire in gold on his right hand index finger on a Thursday evening(one hour before sunset)will help him remain focused and head in the right direction. His current name spelling is adding up to Number 40 which is not a positive number and hence he should spell his name as Ranbir R Kapoor for best results.
Deepika Padukone (January 5, 1986): Deepika is ruled by Number 5 (Mercury), Number 8 (ruler Saturn – Capricorn) and Number 3 (Jupiter). Entering in her 29th year in the start of the year itself, her string of hits will continue with Kochadaiiyaan, Finding Fanny Fernandes and the biggie Happy New Year towards the end. But on the personal front, it will still be the waiting game for the leggy lass, as it will take another year or so for her to find that perfect match.
Amitabh Bachchan (October 11, 1942): This legendary super star is ruled by Numbers 2 and 7 (Moon and Ketu), Number 6 (Libra –ruler Venus) and his compound number adds up to Number 1 (Sun). Being in his 72nd year,once again focuses on his health as it indicates complications especially stomach related issues mainly due to stress. But since the year 2014 which adds up to Number 7 is one of his strongest numbers, he will survive the tide and come out safely. On the film front, his next release Bhoothnath Returns will fail to attract the audiences(read kids)in huge numbers. By wearing a ruby in gold, he will be able to control over anxiety.
Aishwarya Rai Bachchan (November 1, 1973): Ash is ruled by Number 1 (Sun), Number 9 (Mars – Scorpio) and Number 5 (Mercury). Being in her 41st year indicates that she will 'strike back' with a vengeance. She should ensure that she has a release in 2014 before or close to her next birthday. Wearing a red coral in gold on her ring finger will help her bringing out the right balance in her life and also stop unnecessary delays if any.
Akshay Kumar (September 9, 1967):Akshay is ruled by Number 9 (Mars) and Number 5 (Mercury) twice. As he will be remaining in his 47th year for the major part, his next releases;It's Entertainment and Gabbar may under-perform and surprise many.But on the other hand, he will be able to give time to his family. Wearing a red coral will help him with anger management issues which he may face till September.
Priyanka Chopra ( July  18, 1982):Priyanka is ruled by Number 9 (Mars) twice and Numbers 2 and 7 (Moon and Ketu – Cancer). While she will remain in her 32nd year during the first half, she will have to share the credit for the success of 'Gunday' with fellow co-stars Ranveer Singh and Arjun Kapoor; but it will be her role as a real life boxer in 'Mary Kom' which will win her accolades from all quarters. While matters related to the heart would remain a bit slow, she may meet someone interesting enough before the year comes to a close. Wearing an emerald will bring speed on the personal front. All the best, gal !
Kareena Kapoor Khan (September 21, 1980):'Bebo' (as she is fondly called) is ruled by Number 3 (Jupiter) twice and Number 5 (ruler Mercury – Virgo). She also has a slight cusp of Libra (Number 6 – Venus). In her 34th year, her first priority will be Saif and giving him company. On the film front, her next big release  Shuddhi with Hrithik Roshan will put her back in the top bracket. She should never remove the yellow sapphire and the red coral which she is already wearing.
Abhishek Bachchan (February 5, 1976): Junior B is ruled by Number 5 (Mercury), Number 8 (ruler Saturn – Aquarius) and Number 3 (Jupiter). Fresh from the super success of  Dhoom:3, Abhi will majorly be in his 39th year which will give him a mixed bag of results. While he will be making tons of money in endorsements, his next solo release All Is Well will not find much patronage. But once again, he will shine in Farah Khan's  Happy New Year and will be able to match shoulder to shoulder even with SRK in the lead. Wearing a hessonite on a Saturday night(two hours after sunset) will help him with right decision making and thoughtful planning.