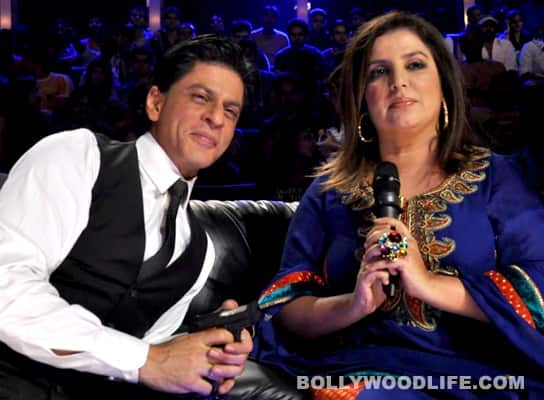 Bollywood's successful non-couple duo could be back on track after a few years of cold war…and both can use the bonding!
In showbiz, you are only as good as your last film. Farah Khan is still reeling under the weight of the failure that was Tees Maar Khan, that BO turkey starring Akshay Kumar, Katrina Kaif and Akshaye Khanna, all hamming uselessly and ineptly as the non-story wandered off into the realm of completely idiocy. Shahrukh Khan, who turned almost everything he touched into gold – at least in London, New York and all parts NRI – bounced on the bottom of the barrel with his uber-expensive RA.One, the film that will forever be remembered as insane, inane and indubitably unwatchable. But together the two have created masala magic with Main Hoon Naa and Om Shanti Om. In those two films Farah was at her tongue-in-cheek-funny best, while Shahrukh seemed to have more fun than ever before with his OTT characters. They worked big time at the BO and with critics alike.
And then came a war…a very COLD war. No one will tell anyone what the reasons were for the fading of the friendship between the two Khans, even though neither would admit to that happening. But the vibes were palpable; neither would speak about the other and were left out of interactions, personal and professional. Many give Farah's husband Shirish Kunder credit for the distance between the former buddies, but the memories of SRK being a supportive friend during his choreographer-director pal's pregnancy belie that suggestion. Farah was busy signing on Akshay and Salman Khan and even Aamir Khan, if rumours were to be believed, for future projects, but Shahrukh was never in the filmi picture.
And then came the big fight between SRK and Shirish, courtesy Twitter and then one happy night at a party. Patching up was almost instant, with Gauri Khan and Sajid Khan reportedly playing mediators. And now we hear that the two Khans, hero and director, may have taken the patch-up to the extent of renewing professional ties. The buzz goes that the film that was originally planned – it was called Happy New Year, if our collective memories go back to that long ago – will be made soon, this time to be co-produced by Farah and Shahrukh. Shoots will begin after SRK is done with his Yash Chopra project – the one that is NOT called London Ishq. And the search will soon start for a new girl to play the female lead.
Is all this true? Or just grist for the gossip mills? Who knows. Or are both Farah and Shahrukh trying to make nice with one eye fixed firmly on the PR metres? We – just like you – wait to find out!
ALSO READ: Shahrukh Khan's slap weakened Shirish Kunder-Farah Khan bond