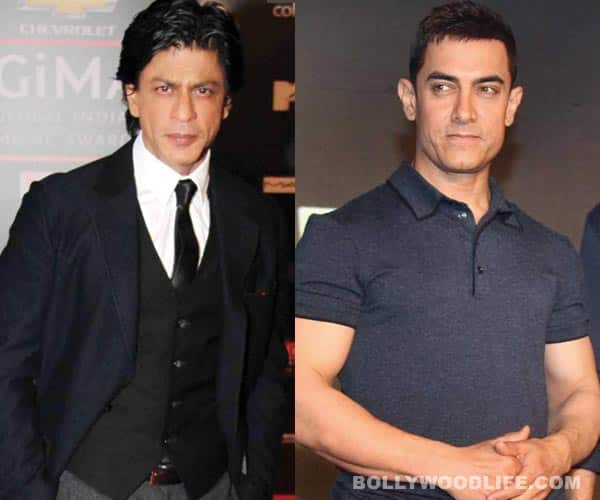 News is that the two superstar Khans will be seen together onscreen for the first time in a song from Bombay Talkies. Wonder why not Salman!
Amitabh Bachchan's powerful dialogue from his iconic movie, Deewar – peechle pachhis baras mein nahi hua woh ab hoga – seems to be true as far as this piece of (big) news is concerned! Ever since the two superstars – Aamir Khan and Shahrukh Khan – started their respective careers and achieved humongous success, fame and adulation, several filmmakers have been trying to bring the two Khans together in one single frame but to no avail. But now, looks like a glorious chapter is all set to be inked in cinema's history!
According to our feathered friend, the Dhoom:3 and Chennai Express stars are expected to be part of a song in Bombay Talkies, a film commemorating 100 years of Indian cinema. And what better way to celebrate it than get SRK and Aamir in one frame!
Bombay Talkies, which is an amalgamation of four short films, will have one song that is common to the entire film. The men who are expected to be part of the high-profile song besides the Khans are Anil Kapoor and the young heartthrobs – Varun Dhawan and Siddharth Malhotra. And yes… there's a dress code too – tuxedo! Not only handsome hunks, the song will also feature most of the top babes of B-town like the gorgeous Kareena Kapoor, the sexy Katrina Kaif, the versatile Priyanka Chopra and leggy lass Deepika Padukone – all sporting golden-coloured costumes. Sounds interesting, no?
From what we hear, Aamir has already shot his part while the filmmakers are now waiting for the Baadshah to shoot his portion. We are anxiously looking forward to the song where the two ruling Khans will be seen together on screen. And we are sure its gonna be one helluva track, much like the Om Shanti Om number (or even bigger) where we had the best of talents from showbiz, right BollywoodLifers?