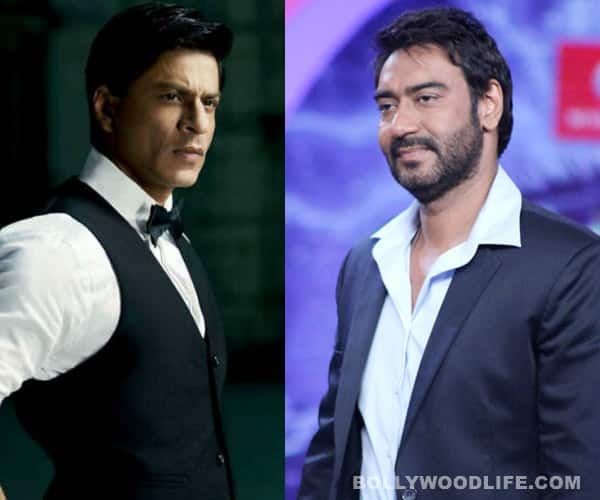 The Chennai Express star will join hands with the Satyagraha actor for the first time for an initiative. Will this welcome move make the alleged rivals buddies, we wonder!
Shahrukh Khan and Ajay Devgn are not exactly bum chums! The two have kept a respectable distance from each other right from the time when they entered Bollywood. Though Ajay's wife Kajol is great friends with SRK, the two men have always been in the news for the cold war they shared. But now we hear that SRK and Ajay want to put their past behind and come together for a TV show!
Our secret birdie has just chirped to us that a seven hour marathon entertainment show will feature Shahrukh Khan and Ajy Devgn. Ajay's Satyagrha co-star Amitabh Bachchan will also grace the event with his mighty presence. These three biggies will host various segments of the show. We also hear that B-town's chocolatey lad Shahid Kapoor will also be seen wearing the hat of a presenter. IPL-fame Samir Kochhar will be the main presenter throughout the show.
The event is a special initiative undertaken by Star Network in association with the Film Producers Guild, Federation of Western India Cine Employees and Cine & TV Artistes' Association, to raise funds for the flood victims. The show will be aired across six channels of the broadcaster on Independence Day.
Now we are waiting to see if SRK and Ajay Devgn will appear on the stage together and give us a glimpse of their new-found friendship!