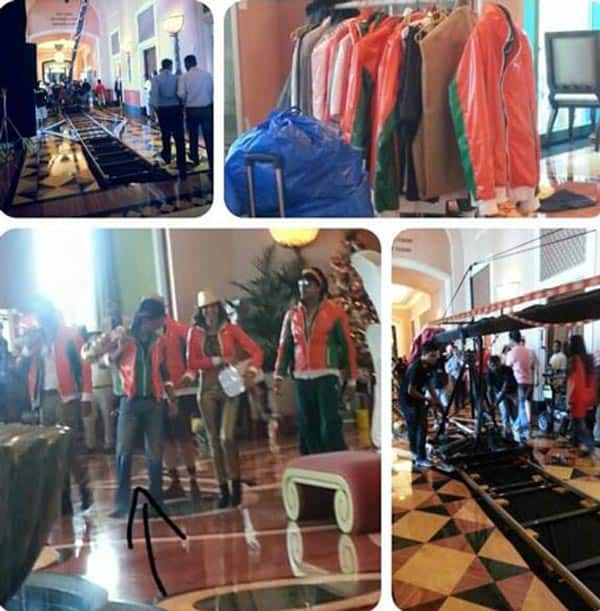 After celebrating the humongous success of his latest release Chennai Express, King Khan starts shooting best friend-filmmaker Farah Khan's con flick with Deepika and Abhishek Bachchan
The humorous superstar Shahrukh Khan will be seen in a rather hatke and sober role in Farah Khan's Happy New Year. And as usual, the Bollywood Baadshah got a taste of his own super stardom on the sets of his new film when fans gathered in huge numbers to catch a glimpse of their favourite hero, Shahrukh Khan!
The Chennai Express star started shooting HNY this week at a palatial villa in Dubai and was accompanied by his co-stars Deepika Padukone and Abhishek Bachchan… Boman Irani, Vivaan Shah and Jackie Shroff were missing. As you know, wherever Shahrukh goes he is surrounded by people who are fanatic about their adoration of him. "What a fantastic crowd in Dubai… shoots with us all day without a complaint n without hassling any actor. Thank u!" tweeted Farah, adding, "Fourth day of shoot n I have already lost my voice! Sounding like a cross between Raza Murad n Amrish Puri."
According to a Gulf-based magazine report, the superstar will spend all of September filming the Dubai-based tale. Farah proudly announced the start of her film and shared pictures of the location, with SRK, Deepika and Abhishek sporting bright orange and green jackets. SRK and Farah are teaming up again after a gap of six years. Of course, HNY's schedule was postponed due to the superstar's shoulder injury.
This new film revolves around a bunch of male friends who are forced into participating in a dance competition. Deepika is a bar dancer who is out of work because of a ban imposed by the government. Going by the pictures, we are sure Farah's next will be a laugh riot. One look at these on the sets visuals and you will agree!