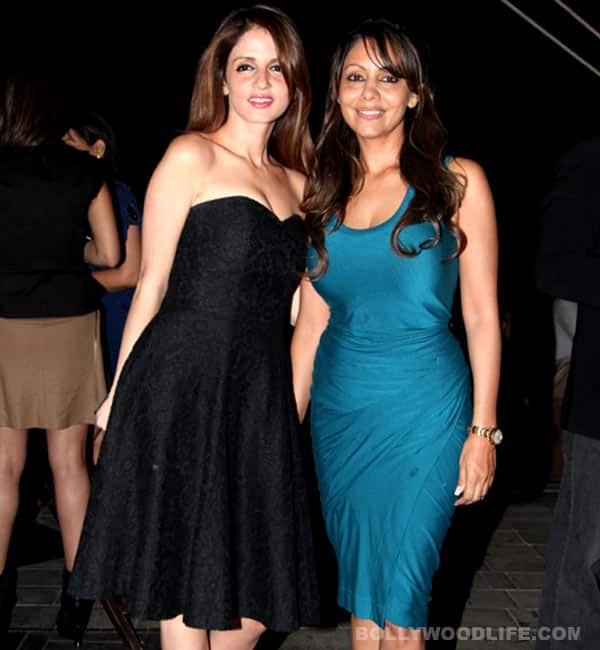 Here's some goss about star wives Gauri and Sussanne
While Shahrukh Khan and Hrithik Roshan's names are being pitted against each other for roles in Bollywood, their respective wives Gauri Khan and Sussanne are happily working together. So what is it that the two are upto, you ask? The Khan couple and the Roshan couple were known to hang out together with the Rampals and with Hrithik-Sussanne's separation, these hangout sessions might have come to a stop. But that hasn't affected Gauri and Sussanne's friendship or business partnership in any way. In fact, their business is flourishing all the more. A little birdie tells us that Gauri and Sussanne will soon be launching a new realty venture in Dubai, with some help from socialite Rekha Tourani.
Reportedly, Sussanne and Gauri are teaming up to launch a Goan luxury mansion project called Naira, which involves 12-villa bespoke properties. The duo's project aims to target the crème de la crème of the society, which is why they have chosen to launch the project in Dubai. After all, Dubai is the hub of rich NRIs, who love lavish homes and properties, hai na?
Sussanne spoke about Naira to a popular website, "It's going to be a seven-star property. I wanted to launch it first in Dubai because there's a culture among the NRIs there to have bespoke holiday homes. They enjoy good designs and appreciate value for money. We are targeting all those who have a desire for a better lifestyle … It's going to be a holiday home that's structured around having fun and is flamboyant."
Well, while Hrithik and Shahrukh continue with their number games at the box-office, looks like their wives are aiming at something much higher. We wish Gauri and Sussanne all the best for their upcoming business venture…