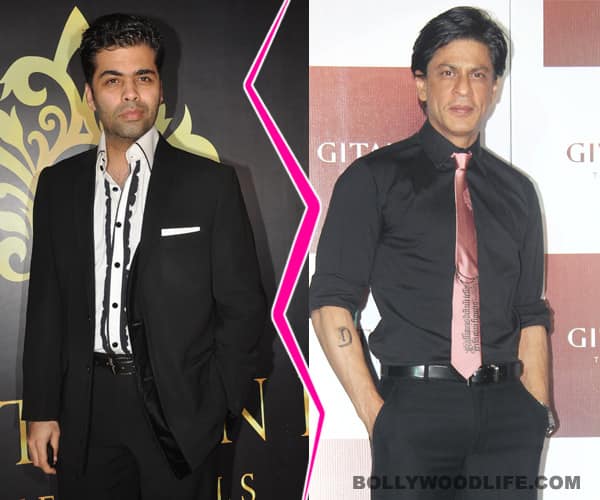 The superstar is supposedly extremely upset with his filmmaker friend
Controversies, like Mary's little lamb, tend to follow close behind Shahrukh Khan. Our curious cat's latest finding is that the superstar and his filmmaker friend have had a big fall out.
Yes, you read it right! SRK's strongest bond with the one industrywallah he considers family, KJo, is going through a rocky patch, according to a gossip mongering maiden. Apparently the superstar is highly offended that his filmmaker friend publicly hit out at Priyanka Chopra. Remember how, soon after news of SRK-PC's alleged affair caught the wind, KJo voiced his wrath against the Agneepath heroine on Twitter for saying nasty things to star-wives through her 'friends' in the media? It doesn't take intelligence of a scientist's level to figure out the star wife in question was Gauri Khan.
But that's not all. Our curious cat says SRK is also fuming that none of KJo's forthcoming projects star him.
After hearing the second reason of rife, we feel this whole fall out news is a figment of some idle rumourmonger's pale imagination. First, SRK has been jumping from one film shoot into another too fast to really worry about Karan not making a movie with him. Second, didn't the superstar dance till the wee hours of the morning and leave along with KJo from the filmmaker's 40th birthday bash?
So we'd really not like to give too much weight to our curious cat's latest chinwag. But what about you – do you think SRK and KJO have a real reason for a fall out?