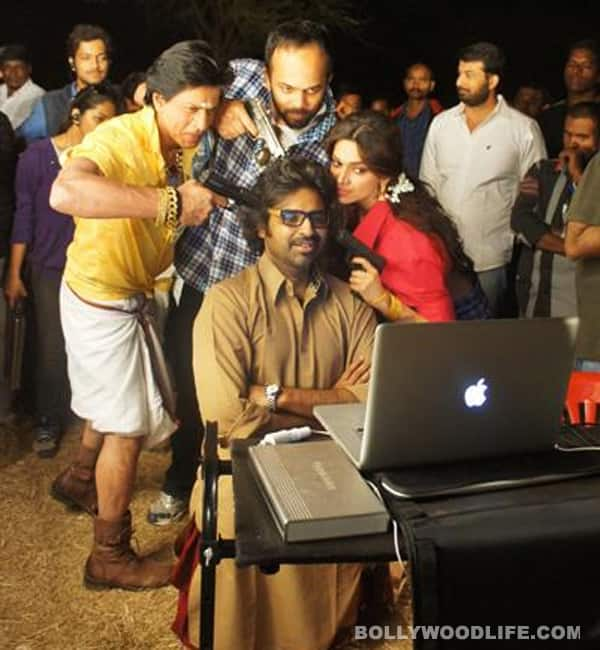 SRK is all set to mix Indian and international music yet again; this time for his upcoming romcom with Deepika Padukone
In 2011, Red Chillies Entertainment owner Shahrukh Khan and composers Vishal and Shekhar had roped in international pop icon Akon to sing for their magnum opus Ra.One, and this year the trio, along with Rohit Shetty, has planned to bring in another international singing sensation for Chennai Express.
Rohit's upcoming entertainer is rumoured to have a mixed bag of songs. Vishal Dadlani who was at the launch of Indian Idol Junior said, "The music is almost ready and will be out any day. It's a mixed bag of very varied songs. There is a love song, then there's this absolutely rowdy South Indian number that will make you want to rip your clothes out and dance. Don't worry; it's a clean family entertainer. Besides that, we have a rap song as well."
So will we see an international star rapping for us again? "I am not saying no. But I am not really allowed to say anything as yet either. All I can say is that the visa preparations are in full swing." Seeing how involved SRK is with the music of his films, we are sure the Baadshah will be lining up some big names for this one too.
Apparently, Vishal-Shekhar recently saw the rough cut of Chennai Express and were blown away with it. "Shahrukh showed us a rough cut of the movie. We saw about 30-35 minutes of the film and I was blown away. To be very honest, it's been a long time since a movie affected me like this. It's funny as hell and the emotions are very real. After a long time you get to see a vintage Shahrukh, and Deepika Padukone is equally spectacular. I think it's the next level for SRK, Deepika and Rohit," said Vishal.
All this definitely has us intrigued about the music and the movie. While we still don't have a definite name on paper as to which singer or rapper will be roped in for Chennai Express, we've got our eyes locked in at the arrival gates.