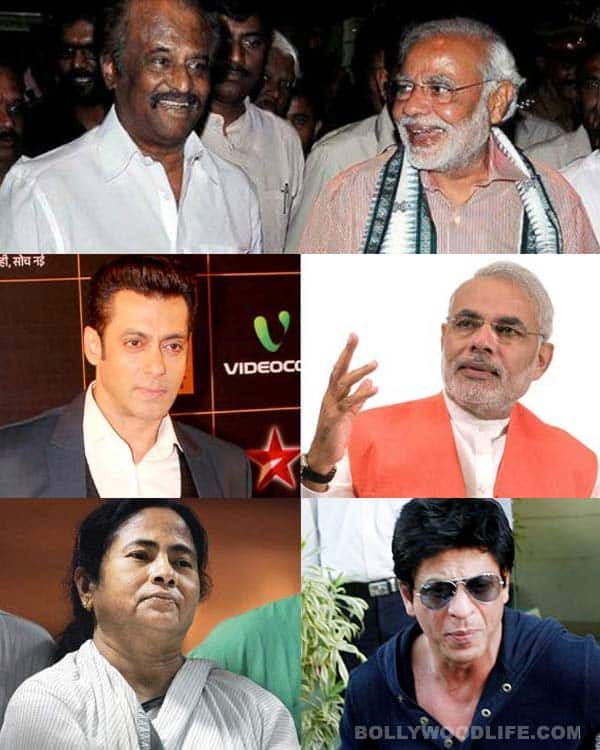 Although politics and Bollywood are two separate fields, the two often mix and make headlines. The two superstars were in the news for dining with big political leaders. What's cooking?
King of Bollywood, Shahrukh Khan recently gorged on a fried fish with none other than the West Bengal Chief Minister Mamata Banerjee. He visited Mamata Di's residence post his team Kolkata Knight Riders' (KKR) victory in Eden Gardens and entering the finals for the Indian Premier League( IPL).
The Chennai Express star tweeted on Wednesday, "My KKR how beautiful were they tonight. Fish fry with Mamata Di, ride along the Kolkata roads with all celebrating," Banerjee too reportedly congratulated Shahrukh Khan on her Facebook page for KKR's performance saying, "KKR got a splendid victory. Congratulations to team KKR. Wish them all the best for the final."
On the other hand Jai Ho star Salman Khan was also in the news earlier for having lunch with newly appointed Prime Minister Narendra Modi (NaMo) during Uttarayan at the Ahmedabad based circuit house annex. The two reportedly had Undhiyu.
The former Chief Minister of Gujarat had tweeted saying "Having Undhiyu for lunch with Salman Khan. Undhiyu is a Gujarati delicacy and is a must-have during Uttarayan."
Kochadaiyaan superstar Rajnikanth too had made great headlines for having a cup of chai with NaMo at his residence in Chennai. Rajnikanth had said that the meeting wasn't held for a political discussion, but for a casual gupshup session. The Thalaivaa star was also seen presenting our new PM with a silk shawl.
All these 'casual sessions' don't seem very casual do they? Although we can't say for sure, it nonetheless looks like our Bollywood stars are making all the right moves to enter the game of politics and play it well. Will it be the Khans vs Rajinikanth in the next elections? We can't deny the fact that this particular scenario will certainly raise the quotient of entertainment in rajneeti to a whole new level!