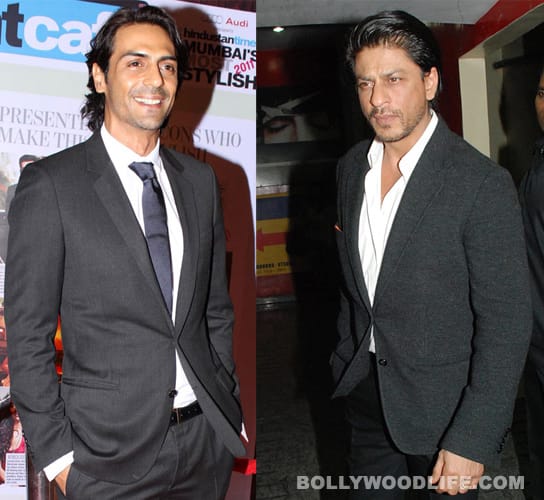 Arjun Rampal has been studiously avoiding Shahrukh for some time now. Wonder what went wrong with their long standing friendship
Shahrukh Khan's bosom buddy Arjun Rampal has been reportedly keeping a distance from his one-time good friend. While many credit it to the tiffs they had on the sets of Ra.One, speculations also suggest that Priyanka Chopra might have a role to play in it.
It is said that the media was rife with rumours about the SRK-PC affair; Shahrukh's friends advised the actor to keep his distance from the jungli billi and one of the close friends was Arjun Rampal. The suggestion clearly didn't go down too well with Bollywood badshah. And following a few more misunderstandings, SRK and Rampal's friendship got strained. The effects were seen in public during Dabboo Ratnani's calendar launch where it was reported that Arjun left the event as soon as Shahrukh made an entry. In addition to that, Shahrukh and Gauri were absent from Arjun and Mehr Jesia's 14th wedding anniversary celebration.
While B-town isn't new to friendships going kaput, we hope this one finds its way back to the good old days. Fingers crossed!