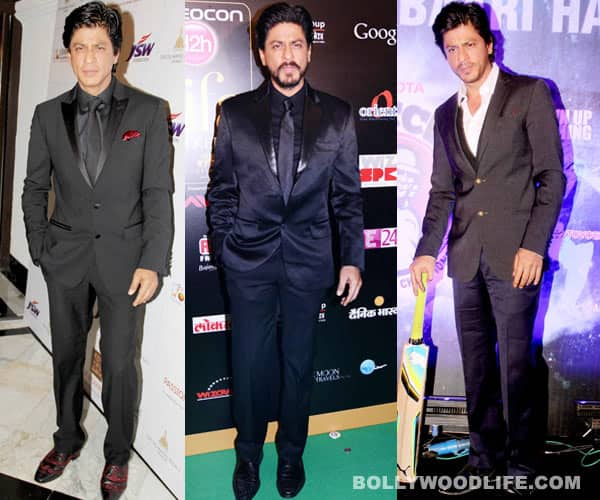 The Chennai Express actor turns 48 today. On this occasion, let's decode his fashion sense…
Even today, when Shahrukh Khan flashes his dimples, our hearts thump louder each time. It's very hard to digest the fact that he blows out all of 48 candles today. Is it just us, or do you too feel that he's getting hotter by the day? So as we breathe deep, we wonder, on his b'day, what gift would SRK like most – style-wise, of course – better than another black T-shirt and one more pair of jeans and more shoes? After checking all his appearances this year, we think that he would love yet another jacket.
We observe that on numerous occasions Shahrukh has sported blazers. While he usually prefers black, we've spotted him in grey too. The actor seems to have a vast collection of jackets, formal and more cazh. Be it awards functions, promotional events or parties, the hunk looks hot in formal attire. Clean-shaved, unshaven or with a stubble, SRK loves sporting suits. What's more, even with an injured arm, Shahrukh doesn't part with his jacket! Though he describes his fashion statement as 't-shirt, blue jeans and sneakers', we think we've spotted him more often in formals than casuals.
The actor who says that he shops only in London has a known shoe fetish. He insists that he usually likes his feet covered and almost never does he wear slippers. Sometimes, even while he's lying in bed, he keeps his shoes on…really! So all you SRK fans, send in your love and wishes to him on his 48th birthday and if you wanna gift him something, you could always send him a coat or a pair of shoes. Only, get the size right!