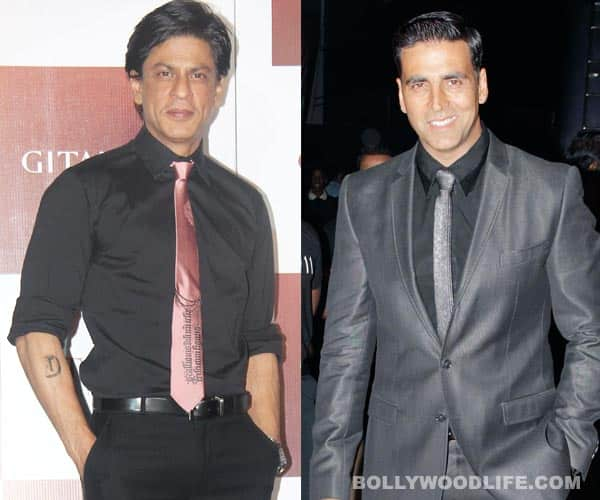 The Badshaah had an intense conversation with the Khiladi Kumar in front of 50,000 people at the IPL match in Pune!
That Shahrukh Khan and Akshay Kumar have not seen eye to eye in a long time is a well-known rumour. It was a surprise therefore when SRK was spotted taking the initiative and approaching his rival in front of the entire crowd at a cricket stadium in Pune during an Indian Premier League match between Pune Warriors and Kolkata Knight Riders.
We've heard that when SRK learnt through their common friend Shabina Khan that Akshay was at the stadium to promote Rowdy Rathore and to cheer the Pune Warriors team, he immediately walked up to him and said hello. That gesture started a 15-minute conversation between the two top actors. Shahrukh reportedly invited Akshay to join him and his team as they celebrated their win. However, Akki had to decline as he had to be back in Mumbai that night. Shahrukh then enquired about Twinkle's health – she is pregnant – and invited both of them to his home for dinner. If Akshay does accept Shahrukh's invitation, this would probably the first time that he will step inside Mannat since the two have been on opposing sides even before King Khan bought the bungalow.
Shahrukh and Akshay's rivalry began when the latter made it very clear that he was unhappy with his role in Dil To Pagal Hai. The two then went on to make snide remarks at each other. Their rivalry deepened further when Shahrukh had a falling out with Salman Khan and Akshay became a good friend of the Dabangg actor. Farah Khan added fuel to the fire when after a fight with SRK, she cast Akshay in Tees Maar Khan. The situation worsened when Sanjay Leela Bhansali signed Akshay for his production Rowdy Rathore. Bhansali and Shahrukh haven't been on the best of terms ever since their films Saawariya and Om Shanti Om clashed at the box office.
This is the first time the two stars have been spotted sharing an amiable conversation in public. We can only hope it won't be the last!