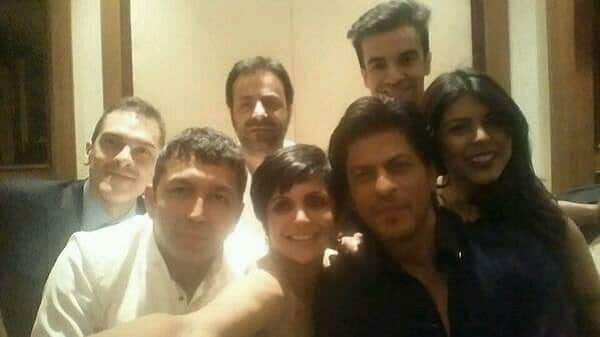 The picture has received over 750 retweets and it has been favourited over 1,200 times so far
Superstar Shahrukh Khan joined his Bollywood colleagues Mandira Bedi, Kunal Kohli, Tarun Mansukhani and Punit Malhotra to create his own selfie moment a day after Hollywood chat show host Ellen DeGeneres's selfie shot at Oscars 2014.
Anchor-actor Mandira Bedi posted the Bollywood selfie on Twitter with the caption, "We had our own selfie moment."
Oscars 2014 memorable moments: Ellen DeGeneres mocks Jennifer Lawrence and Jared Leto
Shahrukh is the star attraction of the selfie, which was clicked during a bash thrown by luxury watch brand Tag Heuer, endorsed by King Khan.
Oscars 2014: Ellen DeGeneres selfie receives over 2 million hits in just half an hour!
Hollywood's star-studded impromptu selfie, initiated by DeGeneres and captured by Bradley Cooper, featured the two celebrities along with names like Jennifer Lawrence, Jared Leto, Meryl Streep, Julia Roberts, Kevin Spacey, Brad Pitt, Angelina Jolie and Lupita Nyong'o and her brother Peter.
It was a standout moment at the 86th Academy Awards, held at Los Angeles' Dolby Theatre Sunday. The picture received over 1.1 million retweets within just half an hour.