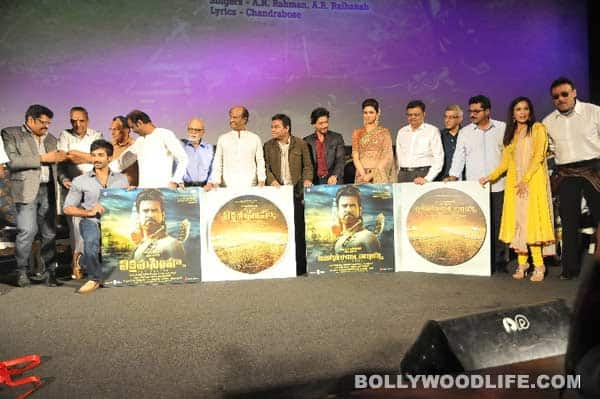 skip advertisement
The music of the Superstar's much awaited next film was released in a grand way in Chennai
The much awaited songs of Tamil actor Rajinikanth's latest 'Kochadaiiyaan' was released here today in the presence of Oscar-winning musician A R Rahman, Bollywood star Shahrukh Khan and actors Deepika Padukone,
and Jackie Shroff, among others. Veteran directors K Balachandar, S P Muthuraman, Shankar, K S Ravi Kumar and lyricist Vairamuthu were also present during the function at Sathyam Cinemas, in which Rajinikanth released the audio.
Of the nine songs directed by Rajinikanth's daughter Soundarya R Ashwin, noted singer S P Balasubrahmaniam, Rahman, and Rajinikanth's wife Latha have lent their voices. Another Oscar winner and sound engineer Resul Pookutty, has worked for the India's first motion capture photo-realistic animated film.
A R Rahman, who has scored the music for Rajinikanth's 'Kochadaiiyaan', India's first film on motion capture technology, said he foresees a separate industry in this field. "Like there is Hollywood and Bollywood and the industry for south Indian films, there can be an entire industry on films made with this technology," he said at the audio launch of 'Kochadaiiyaan'. He recalled how the film's director Soundarya had put in efforts into making it and said he was sure it would succeed. "When I came to Chennai from US, Soundarya told me about 'Kochadaiiyaan' which she said would get over in a year. I was wondering how and I took a week. By then, Rajini Sir had called up and I realised the kind of efforts going into this film. Then I decided to go ahead," Rahman said.
Motion or performance capture technology helps filmmakers record the movements of the actor — in specially made suits, which capture the emotions, gestures and body language of the actor and translates it into animation.