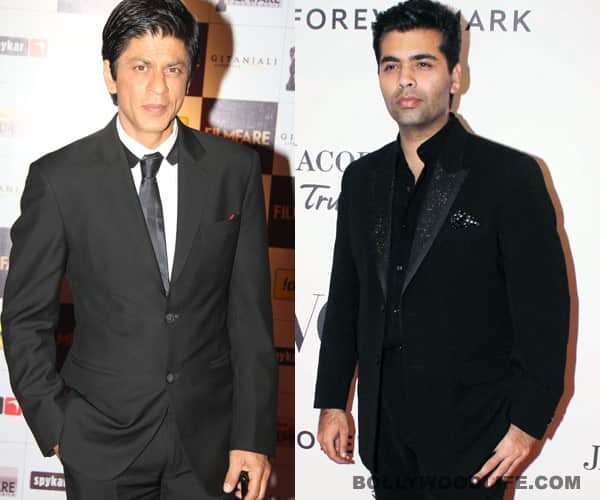 The fourth season of Karan Johar's chit chat show will be remembered for SRK's no-appearance on the show. Yes, as per latest buzz, the Chennai Express actor won't be gracing the current season of KWK. With that piece of information, Koffee with Karan 4 just got controversial…
Shahrukh Khan and Karan Johar's dostana is certainly not the same. Off late, a lot has been said about how SRK is no longer close to his filmmaker friend. Though Karan has time and again refuted such rumours, wethinks they are indeed true. Why do we say so, you ask? Well, for starters King Khan hasn't been on Koffee with Karan 4 till now. Considering that he opened the first two seasons of KWK and also appeared on the finale, it's strange that this time the superstar has stayed away from the Koffee couch. What is even more interesting is that this season it was Shahrukh's arch rival Salman Khan who opened Johar's chat show. If that wasn't enough, even Aamir Khan made his debut on KWK this season. And now we have learnt that Alia Bhatt and Parineeti Chopra will feature in the season finale of Koffee with Karan this year. Now can you smell trouble? We totally can. In fact, the Dharma Productions head honcho in an interview had said, "Why do people read into everything? …It's just a show…who starts and ends it, how does it matter?" If it involves your once-upon-a-time close buddy, it does matter Karan, right Bollywoodlifers?
Also, the Happy New Year actor hasn't been very friendly towards his once khaas dost. At an event, not too long ago, King Khan took a dig at Karan's film Gori Tere Pyaar Mein. When Punit Malhotra, director of GTPM, said he wished to have the superpower to be invisible, Gauri Khan's hubby dearest quickly snapped back saying, "After Gori Tere Pyaar Mein, you should be invisible." Ohhh, that's a nasty one, no? We know KJo's film failed at the box office miserably but he never joked about SRK's film which faced the same fate. Must have been some bro code that the two no longer follow wethinks.
Well, In a nutshell, we are just trying to say that Shahrukh-Karan Johar's friendship has indeed gone kaput. If it hasn't, which wethinks is not the case; it will as reports are doing the rounds that Aamir may star in Karan's ambitious project Shuddhi alongside Deepika Padukone.