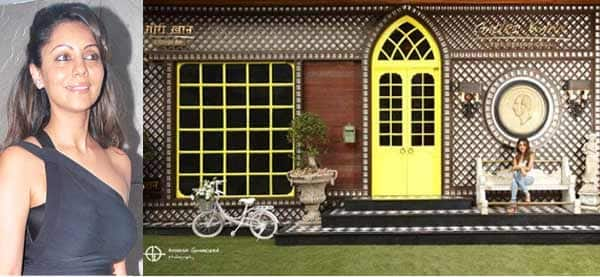 The first lady of B-town, so to speak, Gauri Khan has charmed hubby Shahrukh Khan with her new creative beginning
So what her husband is one of the most powerful men in B-town who mints millions at the drop of a hat with his amazing popularity and incredible charm, that doesn't stop Shahrukh Khan's wife Gauri Khan to take her own path -both creatively and professionally.
Gauri is all set to launch her brand new interior design store, The Design Cell in Mumbai. Congratulating and wishing good luck to his dearest wife Gauri, SRK tweeted, "Chaotically beautiful. Exquisite. The Design Cell exudes Gauri's personality. Extremely proud of her. Awesome team too,"
Gauri runs a designer store with Hrithik Roshan's estranged wifey Sussanne in suburban Mumbai, but she always wanted have a store of her own. And hubby SRK is not the only one from Bollywood to have extended solid support and warm wishes for Gauri's new venture. "Congrats gauri khan.. Ur concept home store #DesignCell is just fabulous!," tweeted Farah Khan.
And if one is discussing designs, arts and exquisite style, how could one not keep in mind what Gauri's friend Karan Johar has to say about his friend's new venture. "Gauri Khan's #DesignCell at Raghuvanshi Mill, Mumbai is by far one of the BEST interior stores I have ever been to!!!," tweeted the Koffee with Karan host.
Now we at BollywoodLife are equally eager to see what Gauri has in her swanky store that might as well inspire us creatively!