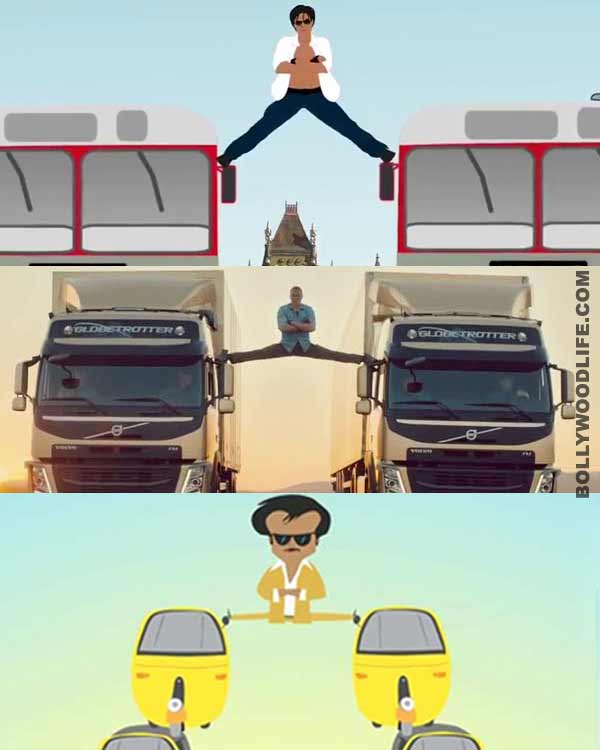 After Van Damme and Rajini, King Khan tries to do a full stretch across two busses but fails miserably. Read on to know why…
Not so long ago, Jean-Claude Van Damme's ad for Volvo trucks went viral on net and the Hollywood actor was showered with praises for his daredevil act in the commercial. Well, it is indeed tough to do a full stretch across two trucks that too effortlessly, hai na? Then South superstar Rajinikanth was seen doing the same in an animated spoof video. However, the Sivaji actor did a full stretch on top of auto rickshaws. While Van Damme and an animated Rajini managed to pull off the stunt, Bollywood superstar Shahrukh Khan couldn't. Well, we are talking about a video which has been made to create awareness about potholes in Mumbai. The video shows an animated SRK trying to do a full stretch across two buses but falls when the one of buses hits a pothole. It's an interesting video and certainly brings out the message loud and clear.
Check out Shahrukh Khan's epic fall but more importantly spread the message – BMC needs to fix the potholes in Mumbai before its starts raining!
[flv]http://st1.bollywoodlife.com/wp-content/uploads/2014/03/shahrukh-epic-fall.flv[/flv]