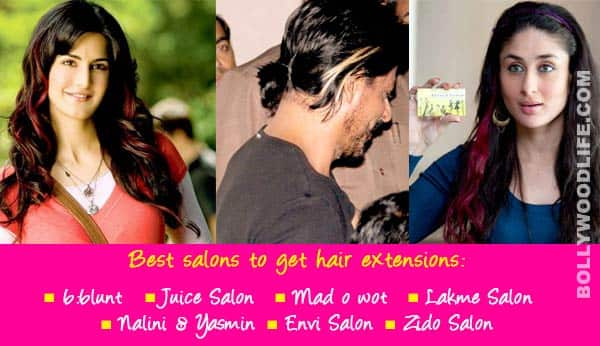 With the King Khan sporting a blonde streak in his hair, we wouldn't be surprised to know that you want one too. Try this…
The last few times we have seen him Shahrukh Khan has shown off a few blond strands in his otherwise black hair. The blonde streak is on his right side and it runs to a wee bit below his ears. The actor claims that he is styling his hair as instructed by his director, Farah Khan, for his latest film Happy New Year in which he plays the male lead opposite Deepika Padukone. Well, with such a hottie sharing sreen space with him, no wonder then that filmmakers want to experiment with King Khan's look – he has to keep up, no? But we were talking about the Chennai Express hero's hair – do you want that kind of blonde streak?
Katrina Kaif had red streaks in New York. Last year, Kareena Kapoor (now Khan) was seen with a streak of red in her hair in Ek Main Aur Ekk Tu. And we thought that was oh-so-cool! With SRK adding that blonde extension in his hair, the trend is obviously no longer restricted to girls. Hey you guys, wouldn't you love to try a new look too?
Hair extensions can transform your look in just a couple of hours. You can use them to either add volume and length to your hair, or go funky with colour and wildness! And you don't have to wait for months or years for your hair to grow longer and you can go crazy with quirky colour without the use of chemicals. All good, wethinks!
This would be the perfect time to do some experimenting. There's just a month to go for the end of the year celebrations and it's time to get rid of that boring look. Be inspired by the Don star Shahrukh or the Dhoom:3 babe Katrina or even the bubbly Gori Tere Pyaar Mein actor Kareena Kapoor Khan. Book an appointment at your nearest salon to get your makeover. It's time to add some colour to your life… err…. hair!