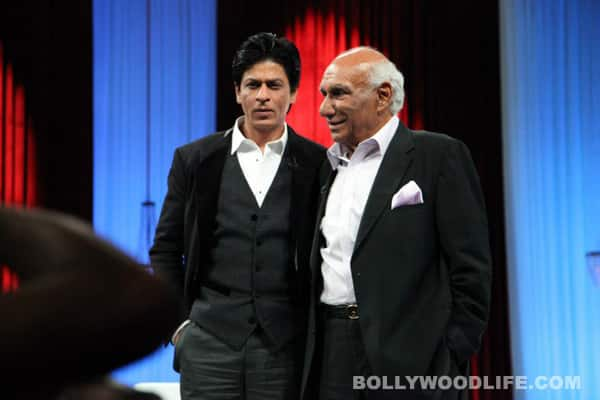 The bond that Yash Chopra and Shahrukh Khan shared is well known, so naturally our eyebrows went sky high when we heard the actor saying that. Curious? We were too!
Shahrukh Khan was at his wittiest and funniest best at a press conference for his soon-to-release love story, Jab Tak Hai Jaan. The King Khan's media events are always entertaining, courtesy his amusing way of answering media queries. So before the question-answer session commenced at Yash Raj studios, Bollywood's Baadshah shared fond memories of the legendary filmmaker, and said that the entire team of JTHJ would celebrate the release of the film rather than mourn the filmmaker's unexpected demise.
So when a journalist asked Shahrukh whether he would miss all the interesting conversations he had had with the filmmaker he said, "I do not miss Yashji," which took the journo and the entire crowd by surprise. But then SRK justified his statement with, "I feel Yashji is still with us. I only miss him when I see him in the video interview, especially the one that we did on his 80th birthday celebration. I miss him the most when I see his name in the contact list of my mobile and feel like dialling his number. But I know it's not possible now. I am fortunate to be part of a film that he decided would be his last. The good way to leave this world is to leave your memories behind and Yashji has left us with so many good memories."
A huge part of the credit for Shahrukh Khan's superstardom goes to the legendary filmmaker, who was like a father figure to the actor. Obviously, his loss is irreparable. But SRK's way of dealing with it is, to us, not just sweet, but loving as well. Don't you think so?