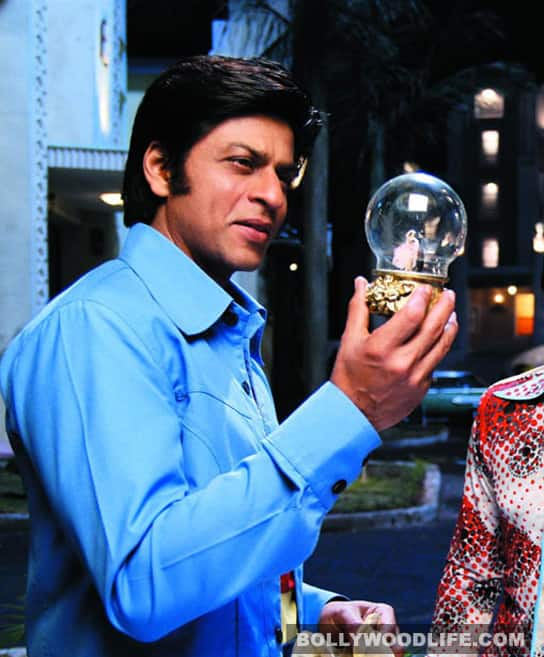 That's just one of the many digs that SRK makes at himself in Om Shanti Om. We bring you the one we found the funniest
There was a time when films in Shahrukh Khan's character died would exceed box office expectations. Cases in point: Darr, Baazigar, to some extent even Anjaam. Many years later, there were Kal Ho Naa Ho and even Om Shanti Om. Movies he didn't die in too became a hit, but that didn't stop him from referring to the trend in OSO. And taking another dig at one of his punar janam (rebirth) movies, Karan Arjun. It's one of the sweetest and funniest scenes between Om Makhija and Shantipriya. Wethink it's even more hilarious when you imagine them speaking the lines in English. The humour is definitely not lost in translation, do you agree?
Om Makhija: Abhi aakar mera 'death' scene dekh na.. Kamaal ka marta hoon, ek dham lively!My spot…My on the spot! Kamaal ki baat yeh hai (poda, poda! ) ki jis film mein main marta hoon, woh film superhit ho jaati hai..! Is film mein main chaar baar marta hoon!
Shantipriya: Chaar baar?
Om Makhija: Double role! Judwon bhaiyon ka… Interval se pehle, villain hum dono ko maar deta hai.. Interval ke baad, hum dono phir se janam lehte hain, aur climax mein villian ko maar ke, hum dono..phir se marjaate hain! Mind it!
Om Makhija: Come now and see my 'death' scene… I die great, very lively! My spot..My on the spot! The great talk is that (go, go) in whichever film I die, that film becomes a superhit..! In this film I die four times!
Shantipriya: Four times?
Om Makhija: Double role! Of twin brothers… Before the interval, villain kills both of us.. After interval, both of us take birth again and in climax kill the villain, then we both..die again! Mind It!
ALSO READ: Arshad Warsi: tongue in cheek!

Is 'Kahaani' an apt movie title for a thriller?
BADE ACCHE LAGTE HAIN: In the distance between arms, two loves are meeting

Kareena Kapoor says: I Am Crazy of Love!
Salman Khan in Dabangg: I will make many holes in your body
Rajinikanth said: The time for me to come has come, the time for you to go has come
Govinda: You felt chilli when I twirled the girl, what can I do?
Vidya Balan says: Once seen Kolkata then other world is useless
Salman Khan, Shahrukh Khan and Aamir Khan: It's all about the name
What would 'Mission Impossible' be in Bhojpuri?