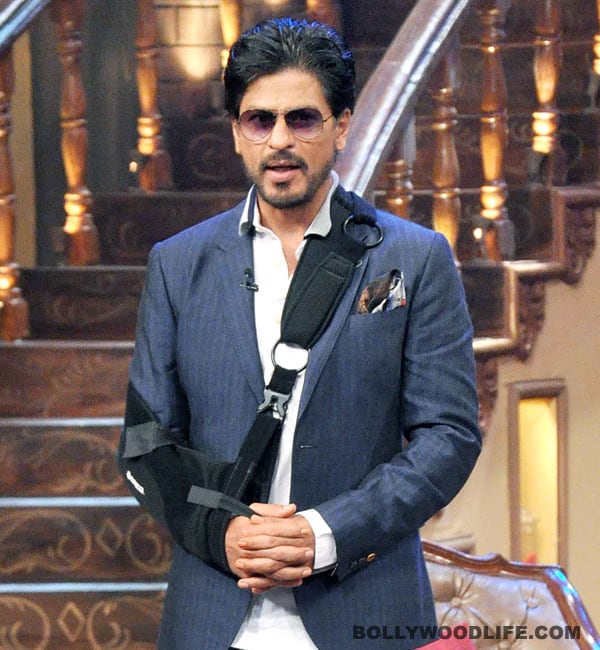 Update: The Happy New Year star was hurt when a door fell on him at a suburban hotel. While the management and his friends have been saying it's not too serious, the medical tests suggest a different story…
Shahrukh Khan's injury is said to be not as minor as was earlier reported. The superstar has suffered a shoulder fracture, his left knee's patellar tendon is torn and doctors have advised him complete rest.
The 48-year-old suffered the injury while shooting Farah Khan's Happy New Year on Thursday. He was taken to a city hospital, where he was given immediate medical aid and then returned to the set.
Shahrukh Khan injured during Happy New Year shoot!
However, a source in the know-how of the events that ensued, said that Shahrukh went back to the hospital for more tests Thursday night. "Shahrukh went through fresh set of tests last night post the shoot for the injuries he incurred on the sets while shooting yesterday. His right shoulder is fractured and left knee patella is torn. Doctors have advised him to take complete rest for the next two-three weeks," the source said on condition of anonymity.
Shahrukh Khan to undergo tests following injury on Happy New Year set
Post his injury, which is said to have been caused by a heavy door, the actor was taken to the Dr Balabhai Nanavati Hospital.
Happy New Year director and Shahrukh's good friend Farah said Thursday that the star of her film was "stubborn" about resuming the shoot, and that the "returning hero" even received a standing ovation on the sets for his bravado.
An injured Shahrukh Khan resumes Happy New Year shoot
Injuries are not new to Shahrukh. While working in films, he had first suffered a hairline fracture on his knee cap while shooting for Koyla in the 1990s. In the past decade, he tore a shoulder muscle, suffered a back injury and has undergone surgery too. In 2011, his meniscus (cartilage) in his leg got ruptured when it got stuck in a puddle.
Shahrukh had even injured himself during Ra.One. Just last year, he underwent a shoulder surgery to alleviate the pain which he endured throughout the shooting of the action-packed Chennai Express.