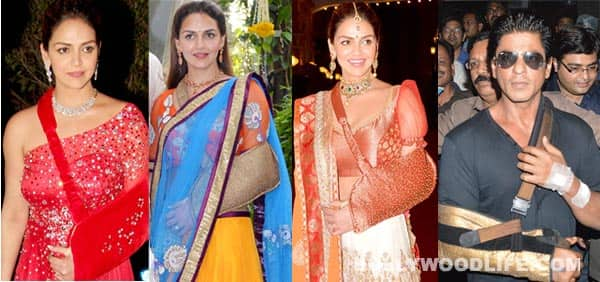 There was something about Esha that reminded us of SRK at Ahana's wedding
Ahana Deol has finally got married to Vaibhav Vora. But that's not what we wanna talk about right now. So over the weekend, Ahana's mehendi, sangeet and wedding reception pics were all over the internet. One thing that caught our eye was Ahana's elder sister, Esha Deol's fracture's sling. Reportedly, Hema Malini's elder daughter fractured her shoulder a few days ago, when she fell at home. But the pretty lady didn't want a broken arm to ruin her stylish appearances so she got her stylist to design matching slings for each of her outfits at Ahana's wedding. At the wedding reception, Esha was sporting a bright red sling, at Ahana's mehendi, Esha was seen with a golden sling. And likewise, at the mehendi ceremony too, Esha Deol chose a matching sling.
Esha's matching slings reminded us of the time when Shahrukh Khan had injured his arm and used to flaunt different kinds of slings. Looks like Esha was inspired by King Khan while choosing slings for her fracture. Also, one can't forget the fact that SRK and Esha share their birthday. We wonder if that's why their minds work alike for fracture slings! Wink, wink!