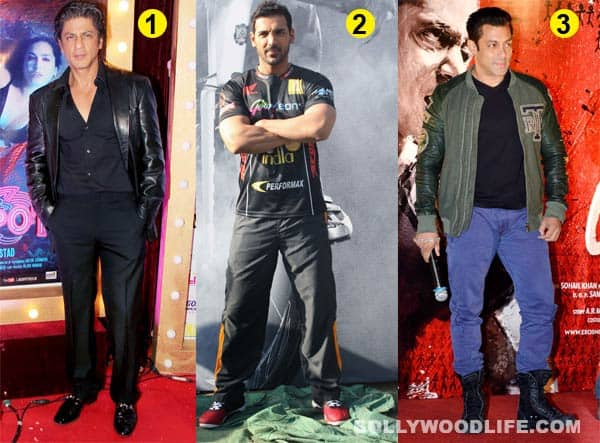 The King Khan of Bollywood has emerged as the king in a recent poll conducted by BollywoodLife
Shahrukh Khan has been voted as the sexiest man in Bollywood. What more, SRK has beaten all other contenders by bagging 50.35 percent votes! BollywoodLife received 36,163 votes, of which 18,208 were won by Shahrukh alone. Though initially there was tough competition, the Chennai Express actor raced past everyone and then there was no one who could catch up with him. The second position has been claimed by John Abraham, with 6,067 votes (16.78 percent).
It was surprising that Salman Khan's fans didn't contribute much to this poll. The Dabangg dude bagged 4,930 votes, which is about 13.63 percent only. Following Sallu is Shahid Kapoor who won about 9.61 percent votes (3,475 votes). The Greek God of B-town, Hrithik Roshan managed to pull 2.62 percent votes (946). The hot star of Ram-Leela, Ranveer Singh was a lil behind with 911 votes (2.52 percent). A lil behind Sasha is the Dhoom:3 actor Aamir Khan with 2.4 percent votes (869 votes). Amitabh Bachchan, Akshay Kumar and Saif Ali Khan managed to pull in a meager amount of 266, 194 and 110 votes each respectively. Surprisingly, Arjun Rampal won only 97 votes. And the most shocking bit was Ranbir Kapoor who bagged the least number of votes, only 88 to be precise!
We would like to congratulate Shahrukh Khan on winning the title for the sexiest man in B-town. To John and Salman, better luck next time. And others continue with your hunkalicious appearances to win more votes in the next poll!