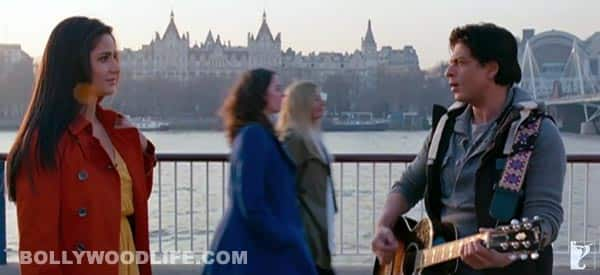 skip advertisement
We combined our fertile imaginations with our zany sense of humour and cooked up a story for Yash Chopra's Jab Tak Hai Jaan. It may be or may not be true, but this is our interpretation of the new romance!
When the man (Yash Chopra) who has made the best love stories ever teams up with the man (Shahrukh Khan) who looks best making love onscreen, we expect to see a crackling, mind-blowing epic romance. And since Jab Tak Hai Jaan will be the YRF founder's last film as a director, the SRK-Katrina Kaif-Anushka Sharma starrer has to offer audiences something more than two good-looking people singing and dancing in the Swiss Alps, the woman in a Manish Malhotra sari and the hunk in an Ed Hardy jacket.
What do we know for sure about this one? For starters, JTHJ is set in London, Ladakh and Kashmir.
But Aditya Chopra's poetry as narrated by SRK, the film's trailer, the three pivotal characters and some old and new, some original and some clichéd aspects of the plot that we can deduce are enough to conjure up a slightly crazy, modern-day love story that could be senior Chopra's last ode to romance. And as we listened to the poetic creativity of Aditya Chopra in SRK's mellow voice, we let our minds come up with some magic that could unfold onscreen…soon.