Shahrukh Khan makes people go crazy at Vashi Durga puja
Deboshree Ghosh
Last Updated: 2.17 PM IST 10.25.2012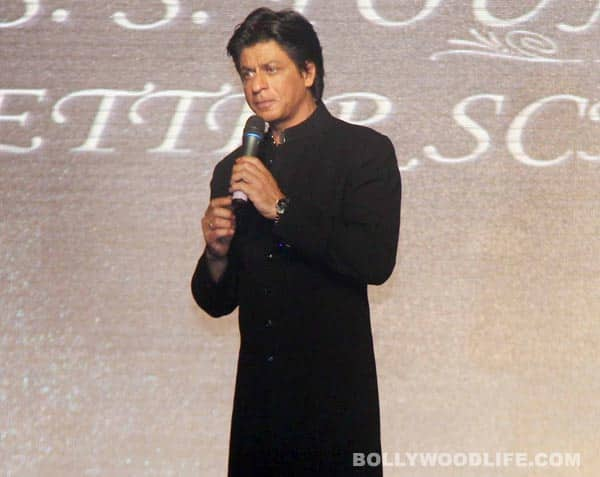 Yogen Shah
Sign up for the BL newsletter!
Throngs of people gathered at the ICLE college ground to get a glimpse of King Khan. Loud Bongs and passionate fans visited the pandal despite the unbearable heat and asphyxiating atmosphere
"How will Shahrukh Khan manage to entertain us for an hour? Shreya Ghoshal and Sonu Nigam crooned for the crowd and swept them off their feet with their magical voices, but what will SRK do? We guess he will come only for a brief duration," that was one thought hovering in almost every person's mind and inarguably the main subject of discussion at the huge soiree. It was ironic in a funny way as fans waited for him with bated breath and doubted his entertaining skills at the same time. But obviously King Khan shut everyone up by performing with full vigour on his IPL team's (Kolkata Knight Riders) signature anthemKorbo lorbo jeetbo re on stage and kept the show on for more than an hour. As wreaths of smoke from the surrounding food shops made SRK fans cough up a storm, nothing could stop the fans from having a look at the star, even at the cost of breaking into a fatal stampede. Bongs grinned with unbridled joy as SRK effortlessly spoke a few lines of incorrect and inaccurate but enthusiastic Bengali.
There were also people who made sure they bought expensive tickets to see the King Khan in the flesh, sitting in their comfortable chairs rather than sweating it out and standing the whole time just to watch him on a big screen fixed right adjacent to the stage. SRK looked super smart in an ethnic black sherwani and white pajamas. He entertained the audience with great enthusiasm despite the recent demise of Yash Chopra – whom Khan considered as a beloved father figure. Quite an event, we say – SRK truly managed to win the hearts of his die-hard admirers.  
Photos: Yogen Shah
First Published: 2.08 PM IST 10.25.2012