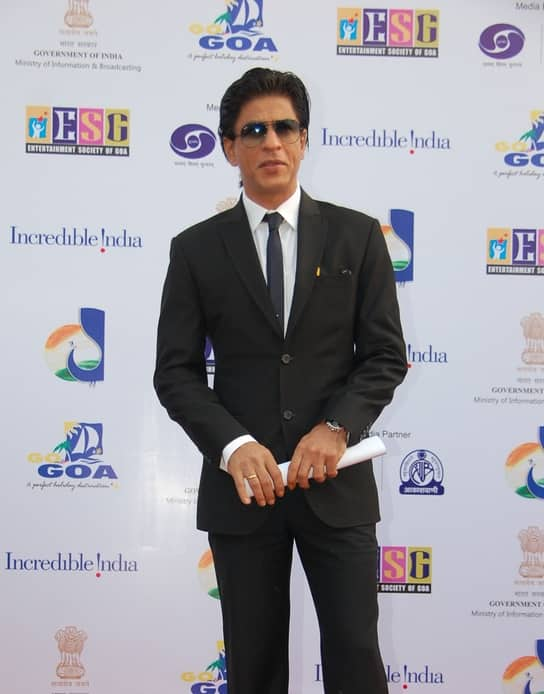 Bollywood superstar Shahrukh Khan Wednesday turned an otherwise drab official function into a rib-tickling affair by offering to strip and reveal his bermudas on stage at the inauguration of the 42nd IFFI
Shahrukh Khan was the chief guest at the inauguration of the 11-day International Film Festival of India (IFFI). The actor was at his hilarious best and had Union Minister for Information and Broadcasting Ambika Soni and Goa Chief Minister Digambar Kamat in splits by threatening to strip down to his beach wear, which he claimed he was wearing beneath his formal slacks. "I wanted to wear my bermudas, but then chose to wear my suit. But I am still wearing bermudas beneath. Do you want me to take my pants off," he asked, leaving the 1,000 strong audience laughing their guts out. "The younger girls (referring to compere Tisca Chopra and actor Rituparna Sengupta) and Ambikaji are saying 'take it off, take it off'!" Khan chided in banter, after being at the receiving end of Soni's playful jibe at him in her introductory speech.Soni had earlier said that it was "extremely easy" to get Shahrukh Khan to attend the festival and that she did not have to approach any "powerful" friends and people to coax the Bollywood Baadshah to attend the mega I&B event. "All I told him was that we need to him to come to the festival to raise the profile of the IFFI (International Film Festival of India). And he said yes," Soni said, even as Shahrukh had the organisers waiting for nearly 40 minutes before he arrived at the venue. The festival will screen more than 100 movies from 65 countries and will have special packages like 'Master Classes' by renowned film personalities like Milcho Manchevski, Hugh Welchman, Laurence Kardish and a first of its kind package of 3D and animation movies. Actor Madhuri Dixit and Freida Pinto are also attending the festival.
ALSO READ:
Are SRK-Priyanka having an affair?