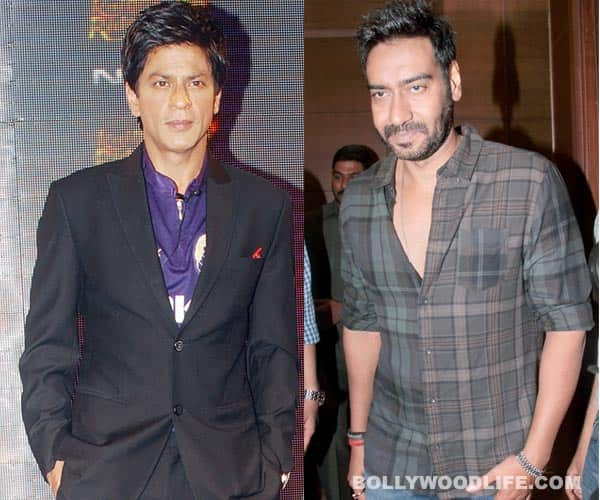 Last year during the festival of lights Shahrukh Khan made a big noise with his superhero-super action film RA.One, but this year he will have fierce competition from Ajay Devgn
The famous cold war between Shahrukh Khan and Ajay Devgn is just waiting to erupt. This Diwali, Shahrukh Khan's forthcoming untitled romantic film directed by Yash Chopra is releasing. Incidentally, Ajay Devgn's much anticipated comic caper Son of Sardaar, starring Sanjay Dutt and Sonakshi Sinha, is also releasing on the same day (November 13) that SRK's romantic saga with Anushka Sharma and Katrina Kaif hits the screens.
With two big stars known for churning out films – each worth Rs 100 crore at the box office – locking horns this Diwali, there will be fireworks, for sure! While Ajay already proving his might with films like Singham and Bol Bachchan, both bagging more than Rs 100 crore, Shahrukh Khan needs a hit desperately.
To make things more fun, SRK's arch rival Salman Khan is right at the peak of his career with his latest release Ek Tha Tiger netting Rs 160 crore in just 10 days since its release. Sallu also has Sher Khan and Dabangg 2 in the pipeline. These two films are already being hailed as potential mega-blockbusters.
The pressure is now mounting on King Khan. Thankfully, the Badshah of Bollywood is not facing direct competition from any more of Sallu's films this year, but he can't take it easy either with Ajay's film staring him in the face.
With all these interesting dynamics and star rivalry being played out, SRK must deliver a stunner at the box office. And going by Shahrukh's innate ability to fight back, he should manage to show that he is the real superstar of Bollywood!