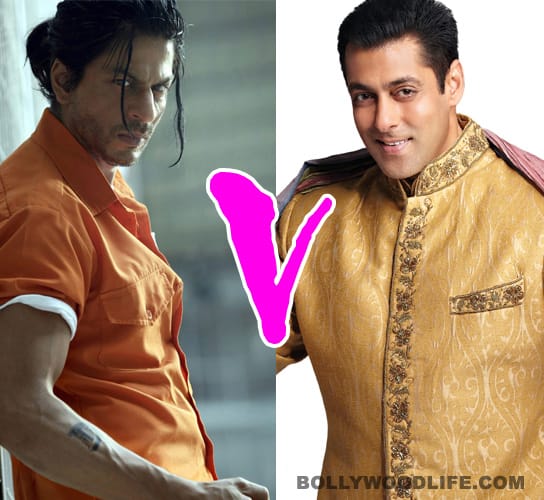 The rival stars are competing once again for an award, but this time it's for the title of Worst Actor. But who deserves it more…
We all know it already – the two dishy heroes are not the best of friends and will rarely be seen on the same stage together. But now they come head to head as they compete…yet again…for a rare honour: the title of Worst Actor! The Annual Ghanta Awards are back and both Salman Khan and Shahrukh Khan are in the race for acting dishonours. Sallu has been nominated for his work in Ready and Bodyguard, while SRK is running neck to neck with him courtesy RA.One and Don 2. At the Golden Kela Awards announced earlier this year, Shahrukh and Salman narrowly escaped making the Worst Actor list and competed in the Worst Film category. But at the Ghanta Awards, they will meet, though perhaps not greet, as they battle it out once more, this time for a nifty little trophy that we just know they will put on their mantlepieces with great and glorious pride, lights focussed on the artefact to show it off to every visitor. You will root for the Khan you hate, won't you, so that he can take this prize home?
But who really deserves it most? We give you the run-up, you choose:
Worse Action: Definitely Shahrukh. When Salman punches the villains and sends them flying, there is a modicum of believability, but when the RA.One hero tries it, you roll over laughing.
Worse Tears: Salman, without question. Take Bodyguard. His mystery gal, with whom he is totally in love, unexpectedly breaks up with him over the phone. He tries to be stoic, but is more like a block of wood. Whatever happened to the expressive guy from Kuch Kuch Hota Hai?
Worse Dancing: Hmmm… this is a tough one. Salman's pelvic thrusts in Dhinka chika? Or SRK's gestures in Chammak challo? Salman whistling and flexing his biceps in the Bodyguard title track? Or Shahrukh shaking his booty and slapping Kareena's behind in Criminal?
Wethinks this is one award that the two hunky men should share. Maybe the honour of indignity will bring even these two closer.
You tell us what you think.