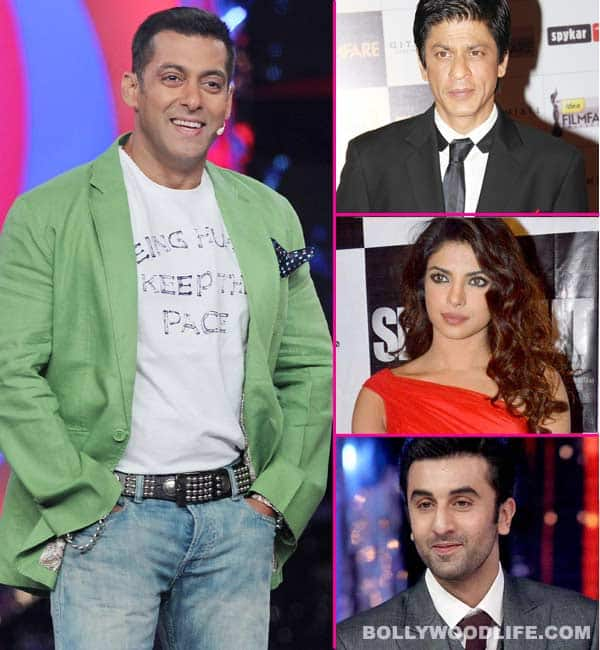 Yes, it could happen! Salman Khan said that he would quit the show if his audience didn't want to see him any more, since people have been tweeting criticisms of the Bigg Boss 7 host. And that could throw open the opportunity for celebs from tinsel town to take over. But who will fit into Salman's highly polished shoes? You tell us….
We heard from Salman Khan himself that he is planning to give up on Bigg Boss. Why? With so much negativity, gaali-galoch, lewd comments, shouting, crying and worse, the bhai of B-town seems to have had enough of playing host to a show that is now bringing him a lot of criticism. And there is more to the story. Over the past few episodes of Bigg Boss 7, Salman has been accused of showing bias towards Tanishaa Mukherji, sister-in-law of a close SK buddy, Ajay Devgn. That has resulted in spectators developing a negative feeling towards the host with the most…charisma, we mean. In Saturday's episode, apna Sallu gave us the idea that he couldn't take it any more. In fact, his words effectively threw open the opportunity for other celebs from B-town to try and step into his nicely shined shoes. The Dabangg Khan said that because of so much negativity on the show, this might be the last season that he plays host on Bigg Boss. Yes, you heard it right. But whether he will stick to his words or no, that is yet to be seen. If this is indeed the last time that Salman will host the controversial reality show, someone needs to replace him asap, hai na? And we have some ideas on who that could be. You tell us what you think – who could be the host of Bigg Boss if Salman quits?
Amitabh Bachchan – The superstar of Bollywood is not new to the small screen. Bachchan Sr has been ruling tellyland as the host of the popular quiz show Kaun Banega Crorepati (KBC) for many years now. Also, he has experience hosting Bigg Boss, considering he was the one in charge Season 3 of the high voltage reality show. His style, charm and baritone will work wonders if he gets back to hosting Bigg Boss, no?
Shahrukh Khan – The arch rival of Salman, Shahrukh is considered one of the best entertainers in tinseltown. Having hosted a season of KBC and Kya Aap Paanchvi Paas Se Tez Hai, he has a bit of experience on the small screen. No points for guessing that if he plays host on Bigg Boss, the show will be loaded with wit and charm.
Aamir Khan – The perfectionist of B-town made his small screen debut not too long ago with Satyamev Jayate which dealt with problems of day to day life. The show went on to become a super hit and everyone went gaga about it. Season 2 is being researched, we are told. We are sure that if Aamir steps in to Bigg Boss as host, the show will much more serious and analytical.
Ranbir Kapoor – The Kapoor lad has won millions of hearts in a short span of time. And he has a huge audience of young people, especially women. The versatile actor will bring in his trademark youthful zest and a hint of besharmi with his colourful personality, if he hosts Bigg Boss.
Ranveer Singh – Known for his antics and absolutely unpredictable behaviour, apart from his rapping skills, Ranveer can bring oodles of madness into the show with his wild, young energy. The Lootera actor will bring the madcap house down, given his incredible energy levels.
And how can we forget the feminine side of B-town? After all, we are not partial towards one gender, hai na? Here are a few beauties who can helm the controversial reality show if Salman quit. And what they may lack in brawn, they certainly make up for in beauty:
Preity Zinta – With not a single Bollywood project in hand right now, Preity can devote her time and energy to the small screen, right? Also, she has hosted the Guinness World Record Ab India Todega a few years ago and done a talk show called Up Close and Personal with Preity Zinta on the small screen, so she has a bit of the right kind of experience.
Priyanka Chopra – This Exotic beauty is known as the female Shahrukh Khan in the media circuit. So it's obvious that if she becomes the host of Bigg Boss, she will bring in that same genre of wit and humour that Shahrukh Khan does in anything he is part of, wethinks. Also, how can we forget that deadly oomph that is so PC!
Shilpa Shetty – This lady with the restored hourglass figure has hosted Bigg Boss Season 2. Moreover, she won Celebrity Big Brother UK, on which Bigg Boss is based. So she knows the show in and out. And can, we presume, deal with all the hassles and havoc the show embodies.
So which one of these celebrities could possibly take over from Salman Khan as host of Bigg Boss? You tell us….