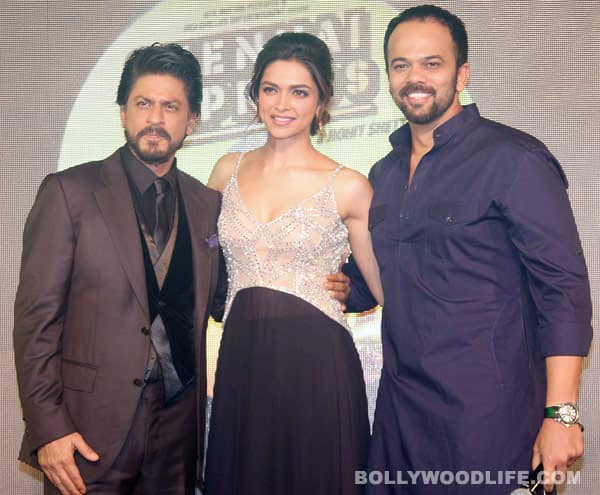 At the grand music launch of Chennai Express, the excited superstar disclosed the pros and cons of wearing a lungi!
Shahrukh Khan is a thorough entertainer and the superstar proves that every time he attends media events. Such is the Badshaah's charm and persona that even though he was fashionably late (read two hours) at the music launch of Rohit Shetty's Chennai Express, he was greeted with whistles and claps by the otherwise annoyed media who just couldn't get enough of SRK!
Shahrukh arrived on stage in his inimitable style and grooved to the title track of CE with his gorgeous co-star Deepika Padukone. The 47-year-old actor was at his humorous and witty best as he took over the mike and addressed media queries related more to his personal life than the music launch or the film.
Going with the theme of the film, media persons were given lungi since it's the popular attire of the South. When King Khan was asked about his experience of wearing a lungi, he quickly shared some inner secrets! "It was difficult to perform some steps wearing a lungi considering it was very hot when we shot for some dance sequences, but the best part about wearing a lungi is that it keeps you aired and iced!" and added, "It was nice and very comfortable. I suddenly realised how it is when girls wear skirts. I respect ladies even more now because after you wear a lungi you get a little worried, especially climbing stairs thinking someone must be watching you from below. My respect for women wearing skirts and men wearing lungis has increased manifolds," laughed SRK.
Considering that Shahrukh has now discovered the comforts of a lungi, we wonder if he's going to start wearing it at home now! What do you think?