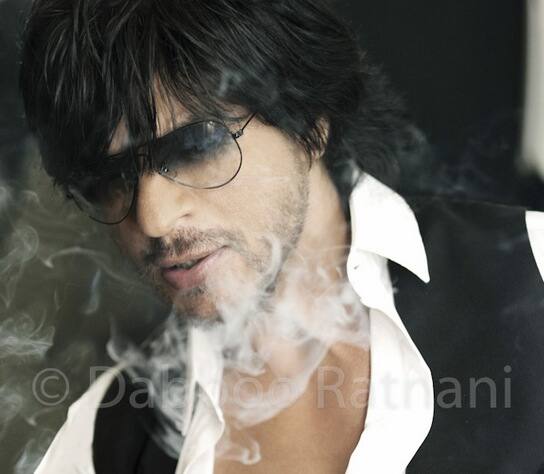 skip advertisement
Celeb photographer Dabboo Ratnani talks about shooting Shahrukh Khan, Amitabh Bachchan and Riteish Deshmukh for his 2012 calendar
Which is your fave picture from your 2012 calendar? And which is the most challenging one you have shot?

All 24 are equally good for me. All are very close to my heart. Riteish Deshmukh's picture was very interesting. This whole thing of a guy at a petrol pump holding a fuel hose with a lit match…. Of course, we put the flame in post production, but I feel this picture was quite crazy. I call my series 'Crazy, sexy, cool' and this was quite like that. It was daredevilry and yet it was great fun. Riteish has a great sense of humour and he kept us in splits with his deadly wisecracks.
Shahrukh Khan looks very different in his picture – almost unrecognisable. How did that come about?
It was shot in Shahrukh's vanity van in front of his makeup mirror. I haven't even used any lights or reflectors. I just used the light coming from his mirror. We were supposed to shoot it outside, but I asked him, 'Can we do it right here?' and he said, 'Yeah'. The moment would've been lost if I had taken him out and made him shoot in front of my own background. That candidness would not have been there with people around looking at him. Even the smoke in the picture is from his cigarette and not created by us. We shot that picture really quickly – in five minutes. I feel when you have a shot you're happy with, you should move on to the next and not waste time on taking more. Shahrukh also loves that kind of attitude.
So, it was not a planned shot at all?
We had planned the look with the beard and all. Instead of a grungy outfit with that look, we chose to make Shahrukh dress formally. The contrast worked for the picture. He looks really cool in it.
Amitabh Bachchan's picture has his face on a ripped Wall Street Journal edition. Is he open to shooting with such crazy ideas?
We had this idea in mind for a long time. Big B is open to experimenting. I feel the bigger stars are easier to handle than newcomers. They are very professional and they respect you as an artiste. They get into the character to shoot 100 percent of what you have told them, and they bring in the aura of their persona.
ALSO SEE: