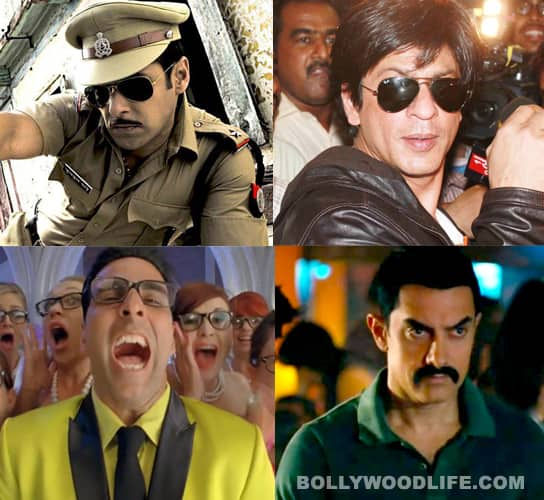 Four actors, four different personalities, four different films. Who'll be more successful? Whose year will it be?
Akshay Kumar – Rowdy Rathore
The Four of Pentacles is the card of a man who sits securely with all his money and that's exactly how Rowdy Rathore will be – a good opening and consistent growth. Sensible spending and some clever promotions will ensure this. The King of Wands encourages you to expect an energetic film riding heavily on the shoulders of Akshay Kumar. His ability to naturally change and adapt to his characters will be highly appreciated. Despite some unfavourable prying eyes, the Sun and Queen of Pentacles will make sure that Rowdy Rathore will surprise everyone with its box office success. Personally for Akshay Kumar, it's a consistent and strong year. He'll give 100% to whatever he takes on. So it will be a good and successful year for Akshay!
Salman Khan – Dabangg 2
The loyalties that surround Salman Khan always make sure that his films achieve success. The Ace of Cups and Nine of Pentacles show the love Dabangg 2 will get and the bumper opening it will receive. The makers of Dabangg 2 will open with the advantage of already having recovered majority of its costs – feeling comfortable and enjoying the growth of their production company. The audience will flock to watch the film, not just in India, but overseas audiences will give it their love too.
As a family, the Khan's will come together stronger and it will be their support and Salman's fans that will bring success to a well-made film.
Shahrukh Khan – Untitled Yash Chopra Film
Represented by the Knight of Cups, Shahrukh will be loved and appreciated for the sincere and honest energy he will put into this untitled Yash Chopra film. The film will open well, but won't be able to sustain this opening and may disappoint audiences as explained by the combination of the Three of Swords and the Two of Pentacles. It will be very important for the makers to market this film well and not over spend, otherwise the film may lose its way.
This will be the last of many recent disappointments from Shahrukh, as 2013 promises to bring him back to his old box office position.
Aamir Khan – Talaash
Talaash, just like Dabangg 2, will recover the majority of its cost before its opening. The difference will be that Talaash, represented by the Ace of Swords will be well respected for the effort and planning gone into making a correct film – as expected from Aamir. Luckily, the cards of Judgement and Justice both grace this film leaving you curious about how Aamir manages to out-do himself each time. This meticulousness will mean a successful and well balanced film.
To sum it up, Shahrukh will have a quiet year but will be respected for his work, whereas Akshay, Aamir, Salman – all three are strong contenders for a great year. They will accumulate new fans and respect not just for their work but the type of people they will come out to be.
Learn more about our tarot reader Shruti Chopra
ALSO READ
On the cards: Will Shah Rukh Khan have a successful 2012?