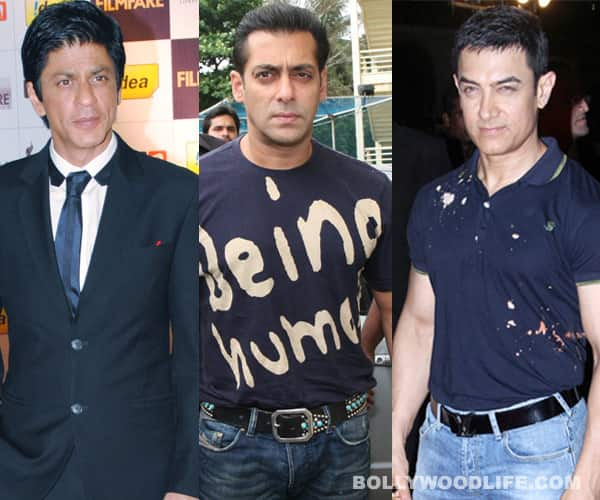 Can Karan Johar make the impossible possible and make modern history on the silver screen?
You've seen Aamir Khan and Salman Khan together in Andaaz Apna Apna. You've seen Salman Khan and Shahrukh Khan together too in Karan Arjun. And Aamir and Shahrukh have appeared in Zoya Akhtar's Luck By Chance, although in cameo roles and not together.
So it would be nothing short of a historic occasion on the silver screen if all three Khans were to appear in the same frame, without any real blood-letting, of course, in a film together! And director Karan Johar too thinks the same way.
Recently the director was asked if it would ever be possible to have the three stalwarts in a movie, sharing the story and a frame of six. Karan couldn't handle the question with a straight face and broke into peals of laughter. The director said that if he were to make such a film, he would end up in a hospital for sure! He also said that there was no way an Amar Akbar Anthony-type of a film could be made with the three stars – each was too big in his own right – and that there was no one story possible to create for such a situation.
Well, we think this is just another tall tale that the director is making up, Karan Johar ishtyle. After all, he may be the only person, with his oh-so-slick diplomacy and ego-pampering skills who could possibly get the three stars to act in a film together, minus the cat-fights, bloodshed or toxic fallout! Or, if he is actually truly out of stories, we would ask you Bollywoodlifers to suggest a good strong plot to the hapless director so that he can go ahead and make cinematic history with Shahrukh, Salman and Aamir, the Khan triumverate!