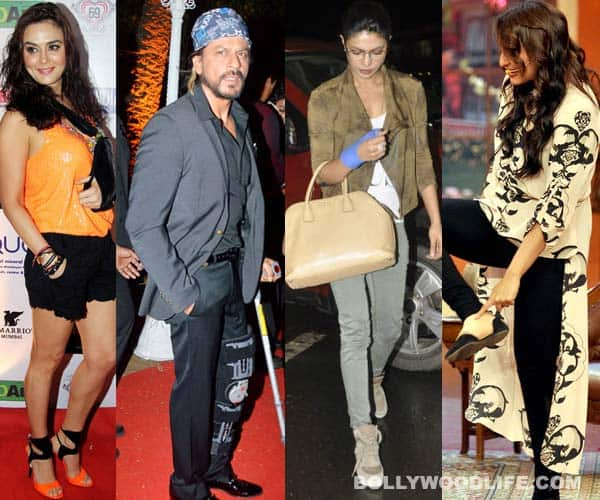 skip advertisement
Such is the spirit of B-town stars that they don't shy away from making their glittering presence felt even when they are hurt. Some even make their canes, casts and slings shine in the fashion spotlight. Take a look!
If you think it's a cinch to look gorgeous and flash starry smiles for the cameras, take a look at this picture gallery – B-town celebs don't always have it easy. Macho studs and sparkling divas keep a promise (ek baar jo humne commitment kar di…) even when they are nursing grave injuries. And there have been plenty of those, more than we can keep track of. But even while pain prevails, the onscreen gods and goddesses turn up at events and press conferences without making a hullabaloo about their dislocated shoulders, fractured arms or sprained ankles. And while they mean business and are highly professional, they manage to convert their handicaps into style statements.
Shahrukh Khan has always embodied the never-say-die spirit and oodles of attitude, carrying his shoulder sling with panache. He even turned up at Ahana Deol's wedding recently with a stylish bandanna wrapped around his head and a cane that spoke volumes about the injury the megastar sustained recently when a door fell on him during the Happy New Year shoot. Remember how he walked the ramp a few years ago at a fashion show for a friend, a stylish sling matching his outfit, and drew an incredible response from his fans? And dudes like Shahid Kapoor, Abhishek Bachchan and Uday Chopra have shown that they are not bogged down by injury – they kept their courage and commitment no matter what the hurdles.
The gorgeous beauties in B-town too know how to keep promises by making sure a cane or cast coordinates with their clothes. From Preity Zinta to Sonakshi Sinha and from Pooja Gupta to Priyanka Chopra – the leading ladies overwhelm us time and again with the strength of their character and their ability to keep it stylish whenever they step out to make a public appearance or two, hurt or not. Preity recently used a glittering sling to match her camisole-top, while Esha Deol had a whole set of special supports made to wear with her party clothes during her sister Ahana Deol's shaadi celebrations this past week.
Now that's what we call stepping out in style!